How to get to know a person? Get to know his life story.
And what do you know about Armytek?
Yes, Armytek company is a whole alive organism that is easy to compare with a person. Young, but at the same time mature and ever-growing person, who stands on his own feet. And now it's time to learn about him.
Armytek as a company is known since 2010, but only few people know that everything started much earlier.
Since 2007 our team has been working on providing people with reliable and the most technically advanced light.
How was it started?
Initially we met the problem – all flashlights available on the market were:
a) high-quality, but based on outdated technologies;
b) modern, but absolutely unreliable;
c) acceptable in relation to technologies and quality but inadequate expensive.
Then we decided to build a team. Best scientists, engineers and designers from military, aircraft and space industry began to work on creating the most innovative and technically advanced flashlights in the world.
For many years we've been accumulating experience and thoroughly investigating the real requirements of the final customers. We completely refused to apply Chinese components. Armytek implements in products only the best LEDs and cutting-edge electronics made in Japan and the USA.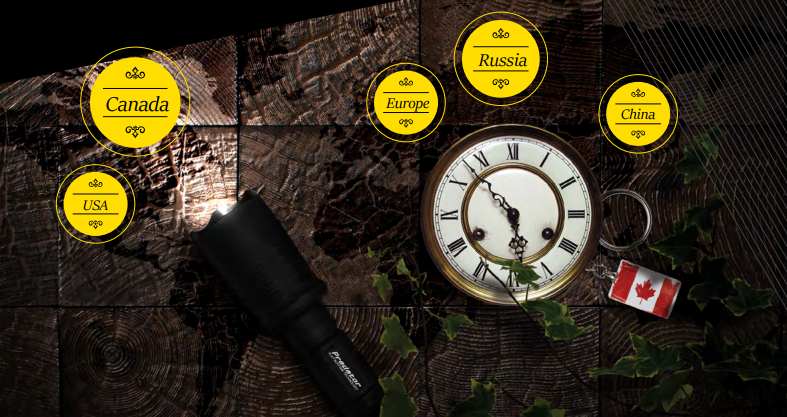 Results were not long in coming
In 2 years we've opened a head office in Canada and built our own high-tech factory in China.
Today Armytek represents 6 floors of current production capacity. Branches of the company are located all over the world. Armytek has taken part in more than 50 international exhibitions in different continents. Armytek products help professionals to deal with challenges in 75 countries.
Now Armytek product line consists of more than 32 flashlight models for different purposes. Multi-flashlights, tactical flashlights, searchlights, keychain lights and every day carry lights. All of them are seriously tested by professionals in strict conditions of hot deserts and frosty north.
We managed to achieve the maximum reliability of product and provide you with 10 years no-hassle warranty for all Armytek flashlights and up to 5 years warranty for accessories.
Yes, Armytek is not only flashlights but even high-quality accessories for various purposes. A wide range of mounts, filters and remote switches provides you with the most convenient use of flashlight in different conditions. Moreover Armytek chargers and batteries will be useful not only with flashlight, but in solving many domestic tasks.