There are a lot of useful things and accessories for a car owner. For someone just a few items will be enough for a comfortable ride, but other drivers can't imagine a car without a set of spare rubber and a tow rope in the trunk. Driver's sets may differ, but a flashlight is a must for each of them.
Why is it so useful for a driver? Find out in the new article.
Car service and minor repairs
Car service specialists always use an additional light source when carrying out work. Mobility and the ability to illuminate hard-to-reach areas are the main advantages of a good flashlight during car maintenance.
However, it's not necessary to visit a car service to replace spark plugs or add engine oil. Basic knowledge, minimum set of tools and a good flashlight will be enough.
Thanks to tail magnet Armytek multi flashlights are placed on the hood or underbody of a car in a single motion, which is especially useful for maintenance and repair.
Flashlights with headmounts are suitable not only for hands-free operation, but also to match the lighting with the eyeline. The size of the mount must be adjustable so that flashlight doesn't slip and is comfortably placed on the head.
Pay attention to the amount of lumens when choosing a flashlight – the more there are, the brighter the light will be.
For car maintenance choose the flashlight with a luminous flux of 150 OTF lumens. Pay attention to models with a light flux of 300 OTF lumens to clearly see the small details when working if your garage is poorly lit. The presence of several modes also plays an important role for car owners when choosing a flashlight – it makes possible to set the optimal level of light depending on the task.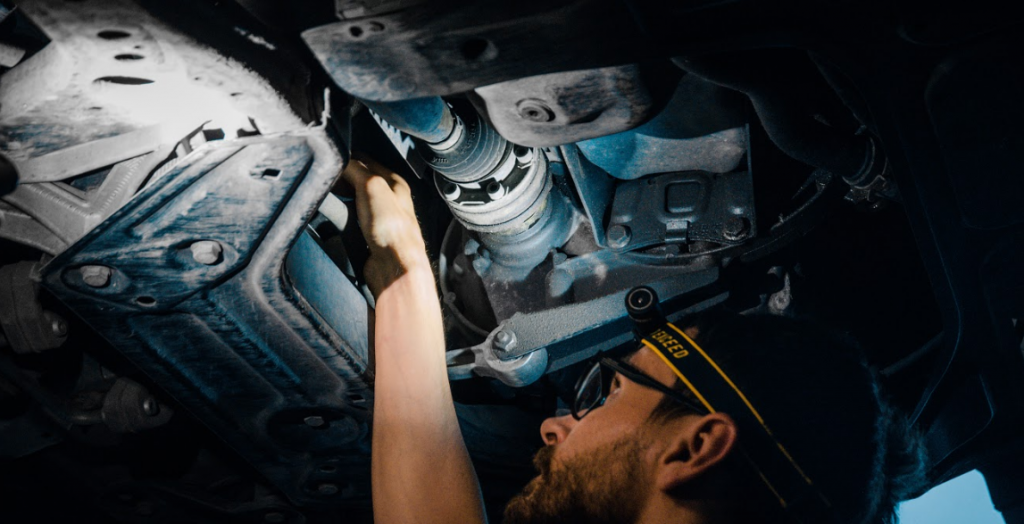 Interior and trunk lighting
It will be much easier to find keys if they have fallen under the seat when there is a light source at hand. And thanks to the magnet in the tailcap, you can adjust the flashlight to the lid or inside of the trunk – this way your hands will remain free, while the required space will be illuminated. For hunters and fishers this will be especially useful to get the gear or weapons ready in the dark.
Emergency stop
Red light is better seen through the fog or in bad weather conditions. And is comfortable for night vision. That's why it's often used as emergency light.
Armytek Wizard WR multi flashlight can be applied for lighting and giving warning signals with both white and red light.
A driver's benefits of using an Armytek flashlight
Why are Armytek multi flashlights suitable for every car owner?
Rotatable 360° headmount and tail magnet for hands-free use while car service and loading luggage;
Up to 10 hours of work from one battery in comfortable mode and the ability to charge from car adapter;
Ability to give warning signals with white and red (Wizard WR) light to indicate yourself on the road in poor visibility;
Constant light without flickering;
Convenient wide beam of the TIR-optics, protected from scratches by tempered glass with anti-reflective coating;
Up to 10-year no hassle warranty.
Which Armytek flashlight to choose?
Wizard Pro, Wizard WR and Zippy Extended Set are the best Armytek multi flashlight models for car owners.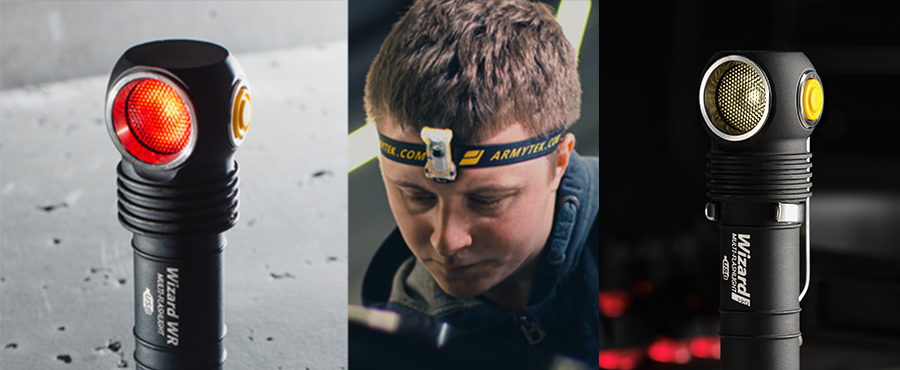 If you are using the car for countryside, hunting or fishing trips, then pay attention to Wizard Pro Magnet USB. This flashlight will become a reliable assistant thanks to the luminous flux up to 1800 OTF lumens and beam distance up to 130 meters.
If you need a compact multi flashlight, we recommend you to try Zippy Extended Set. The headmount with magnet is easy to install and remove, so you can always carry the flashlight with you even on a set of keys. Up to 10 hours of work on a single battery charge and the ability to charge using Micro USB cable – reliable light will always be with you.
Wizard WR has four LEDs: 2 for red light and 2 for white. 5 brightness modes for each light make it a universal option for any occasion. The flashlight is of great help when hunting or fishing – red light is invisible for fish and animals.
A reliable flashlight is a must for every car owner. Choose your perfect one in the Armytek catalog.