It is thanks to you that we are only moving forward, so we believe that your birthday is a holiday for us too. And how can such an event do without gifts? If you are registered on our site, you will receive a guaranteed gift from Armytek on your day.
What have we prepare for you?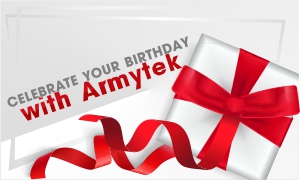 15 reward points for your account on our web-site.
You can pay for your orders with points (up to 20% of flashlight price and up to 15% of accessories price).
When registering on the site, just enter your date of birth to get your gift. If you have already registered, you can edit your profile.
Great mood guaranteed! Catch the moment, Birthday is only once a year! Celebrate it with ARMYTEK and please yourself with a new flashlight!
Pay attention, please, that for accrual of points, you should enter your date of birth in your profile. Accrual of points starts in this day. If your birthday has passed, but points are not accrued. Write, please to shop@armytek.com – we will check it and fix as soon as possible.
Note!
* Reward points are not combined with other discounts and promo codes.