Armytek Uni C2 Plug Type A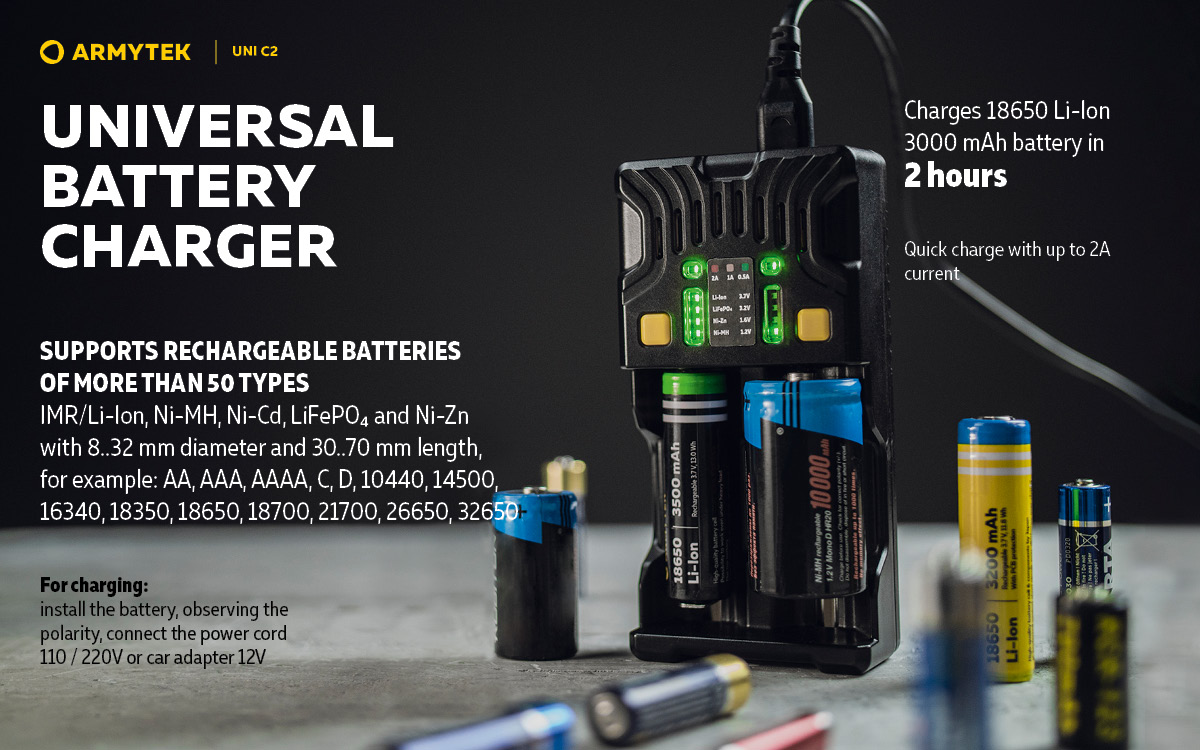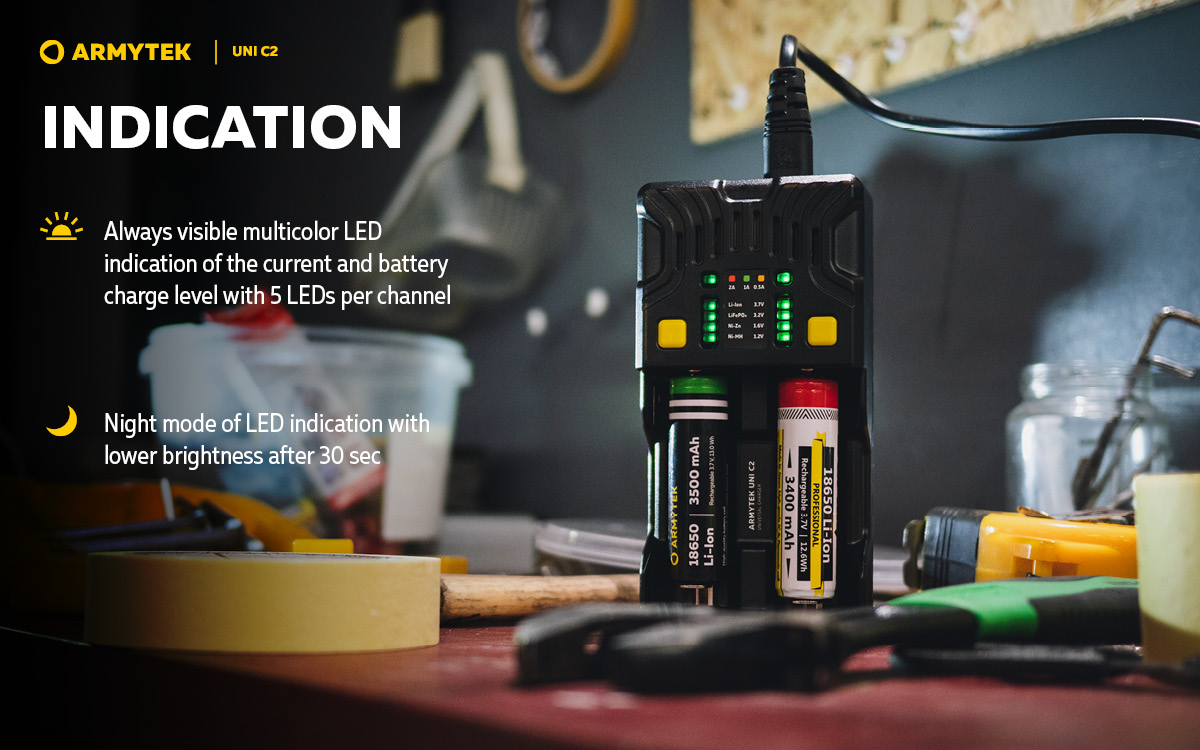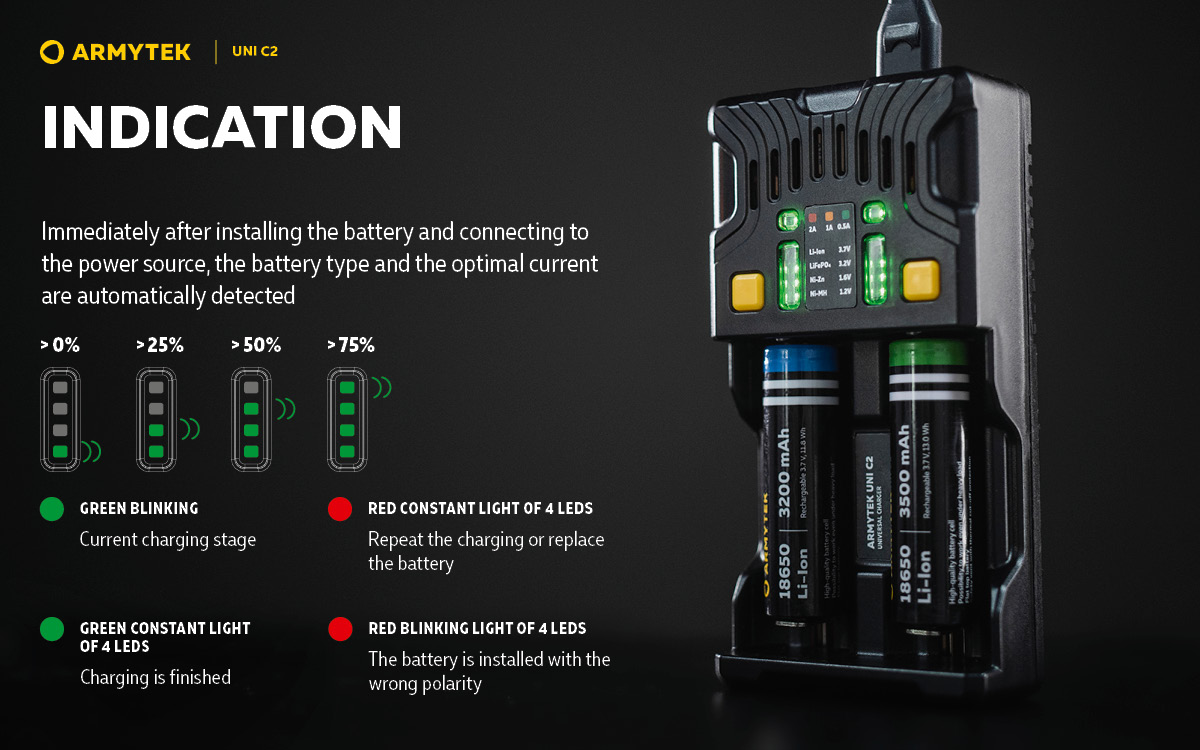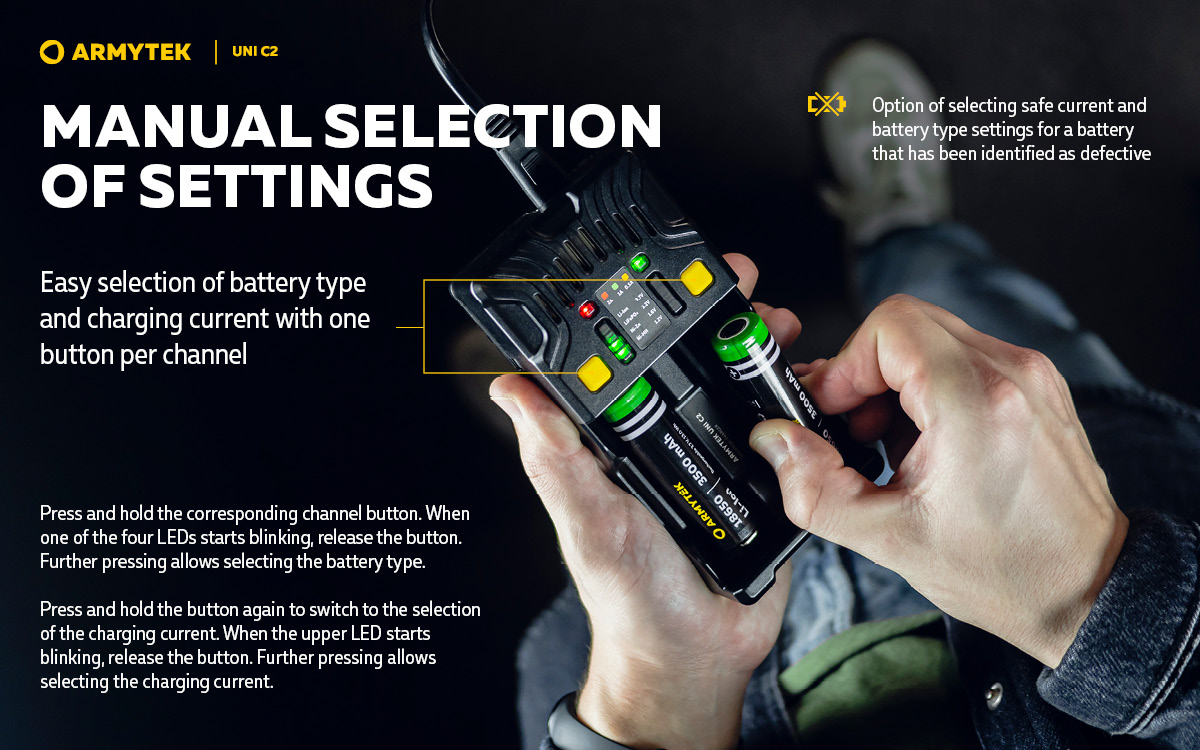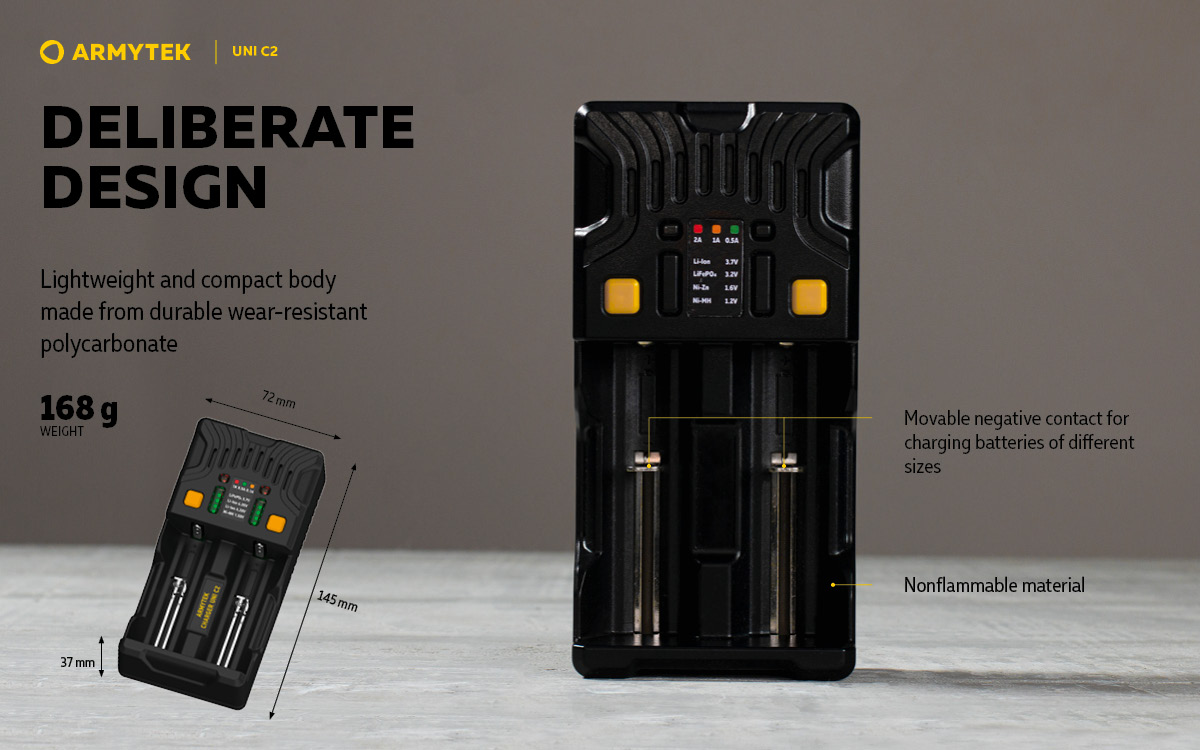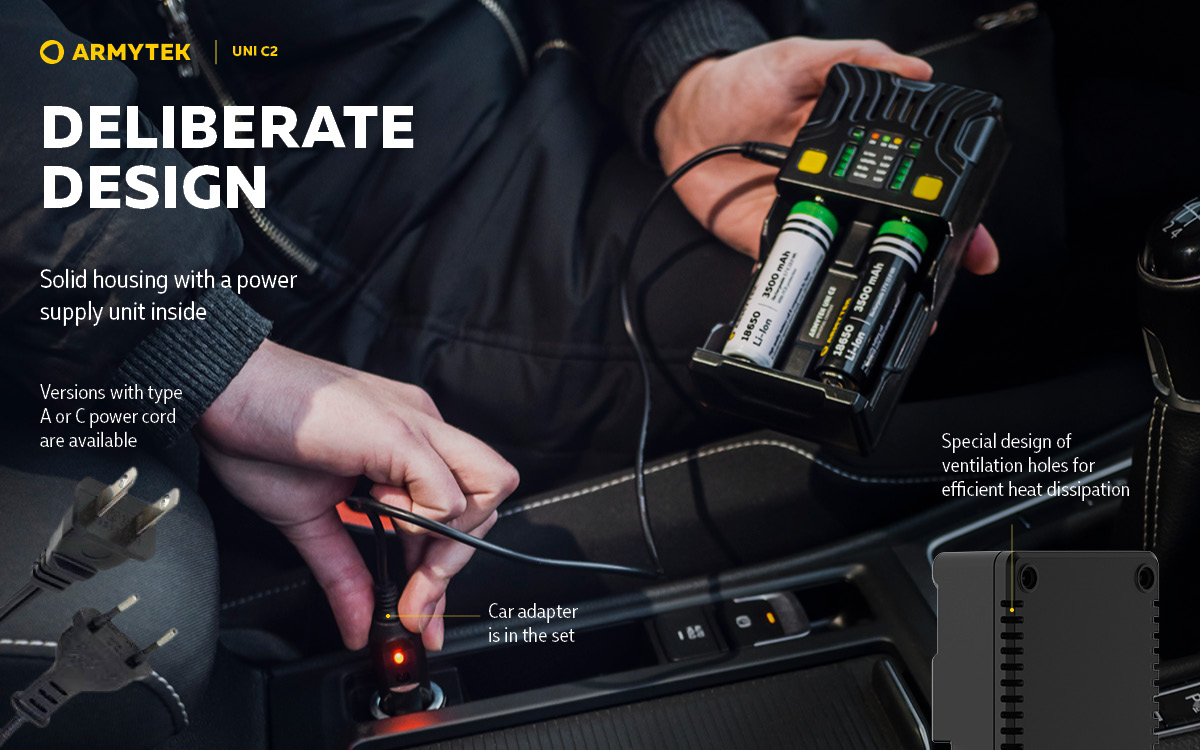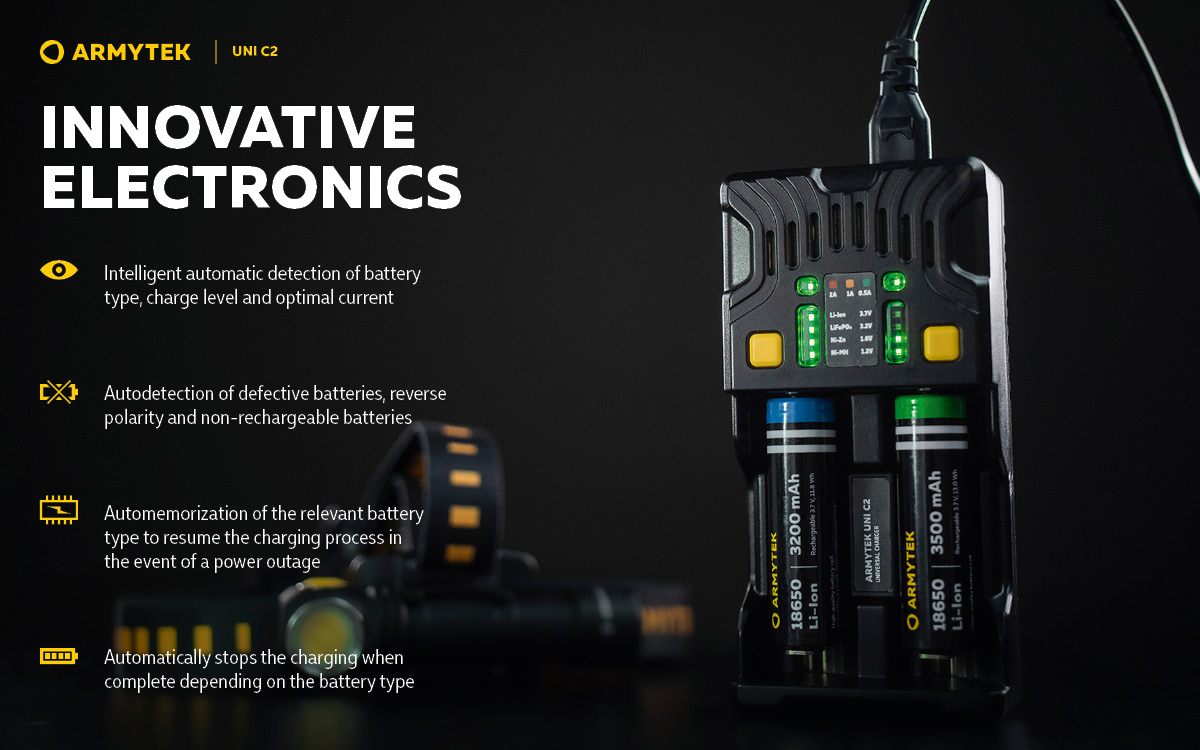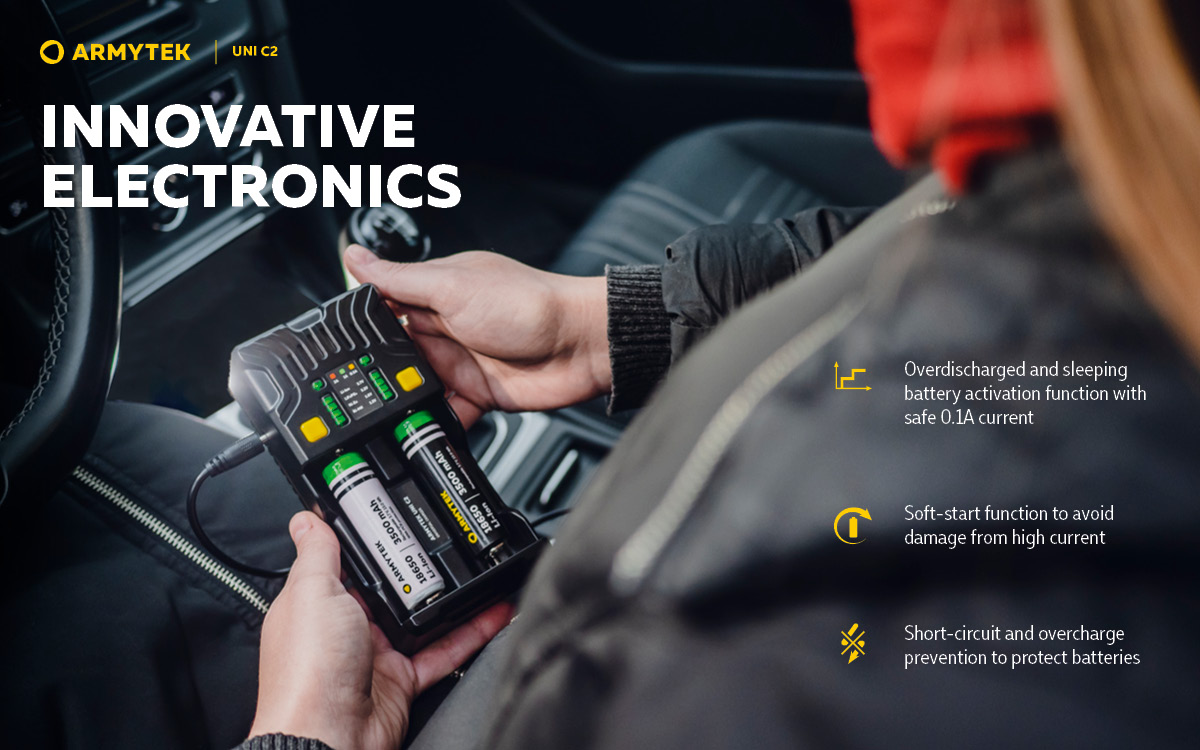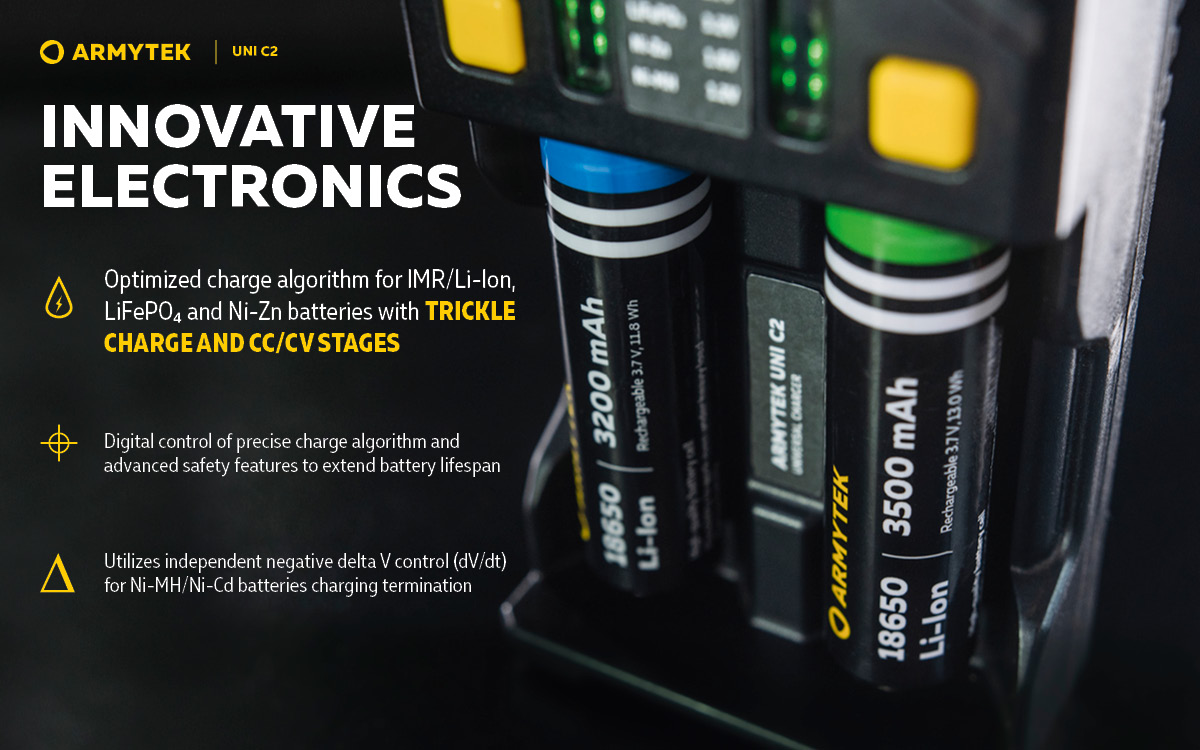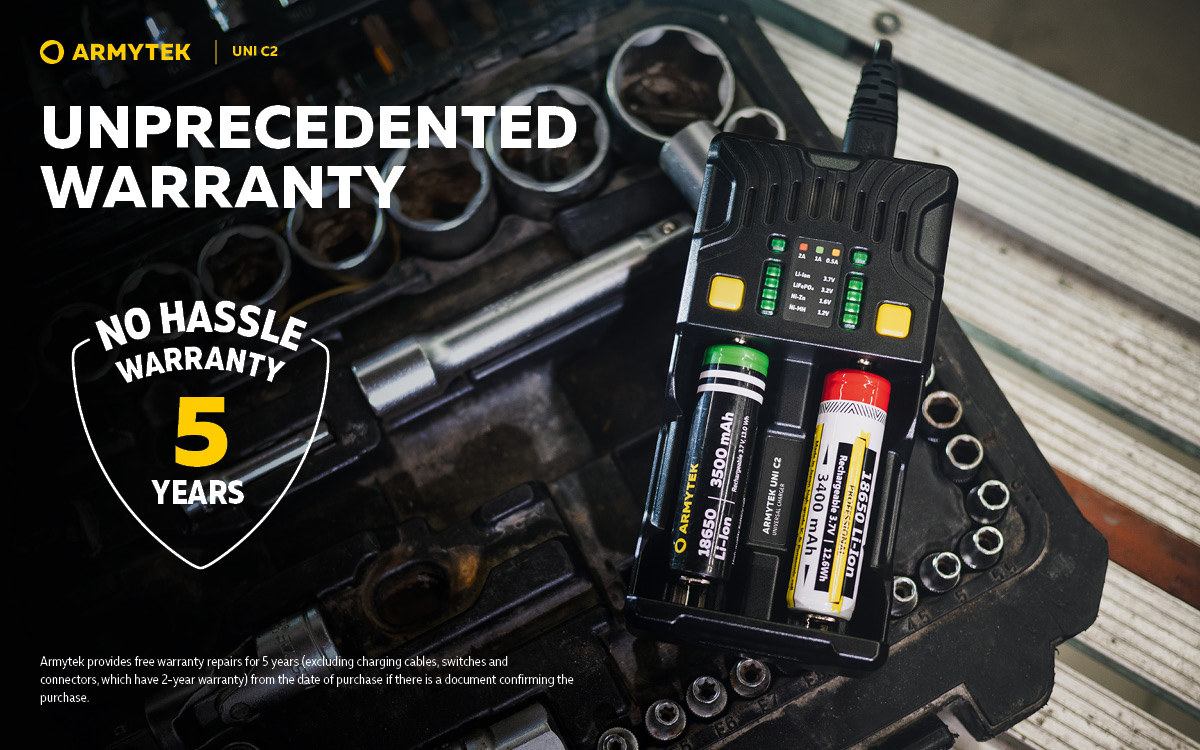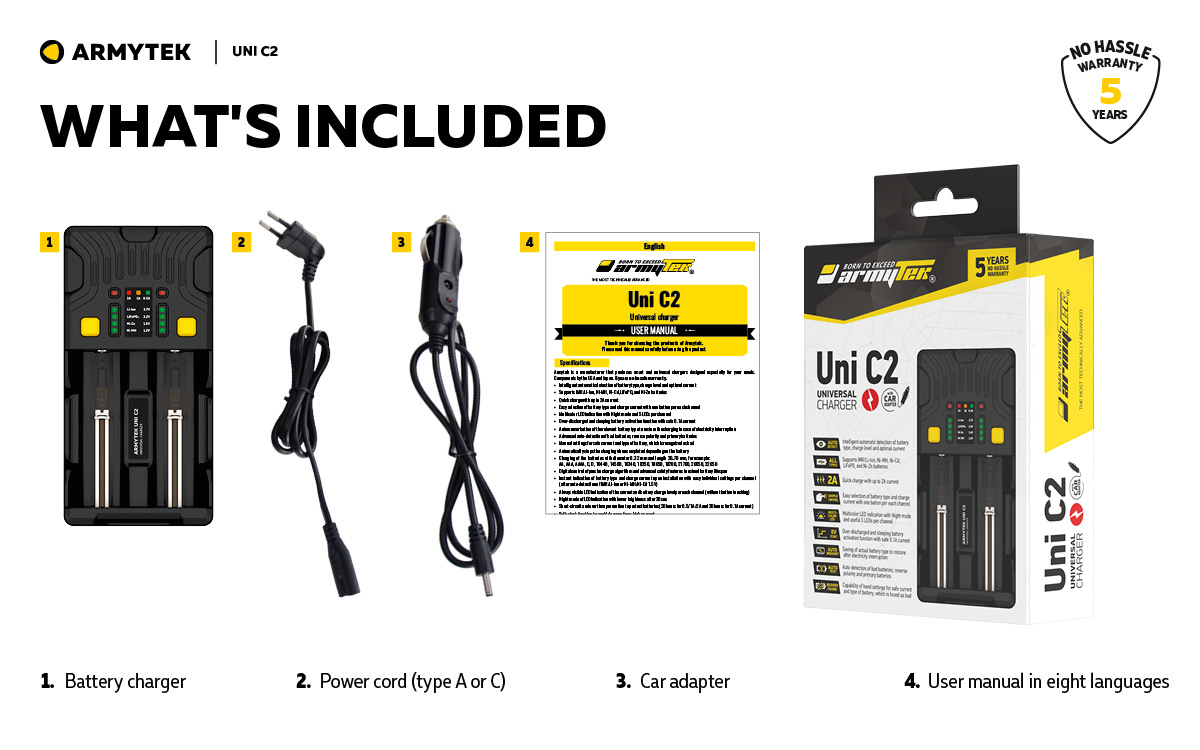 Universal charger Armytek Uni C2 supports IMR, Li-Ion 4.2V, Li-Ion 4.35V, Ni-MH, Ni-Cd and Li-FePO4 batteries.
Intelligent automatic detection of battery type, charge level and optimal current.

Supports IMR, Li-Ion 4.2V, Li-Ion 4.35V, Ni-MH, Ni-Cd and Li-FePO4 batteries.

Quick charge with fully independent slots and 1A current for each.

Easy selection of battery type and charge current with one button per each slot.

Multi-color LED indication with Night mode and useful 5 LEDs per channel.

Over-discharged and sleeping battery activation function with safe 0.1A current.

Saving of actual battery type to restore after electricity interruption.

Advanced auto-detection of bad batteries, reverse polarity and primary batteries.

Manual settings for safe current and type of battery, which is recognized as bad.

Automatically stops the charging when completed depending on the battery.

5 years no-hassle warranty.
Technical details of chargers
Battery type:
IMR / Li-Ion 4.2V / Ni-Zn / NiMH / LiFePO4
Battery compatibility:
diameter 8..32mm and length 30..70mm (10440, 14500, 16340, 18350, 18650, 26650, 32650, AAAA, AAA, AA, C, D)
Indication type:
2х5 multicolor LEDs
Voltage per channel:
4.35V / 4.2V / 3.7V / 1.5V
Charging current per one channel:
1A / 0.5A / 0.1A
Input:
AC 85-264V / 0.5A (50/60 Hz) or DC 9-14V/ 1A
What's included:
Car adapter, power cord, manual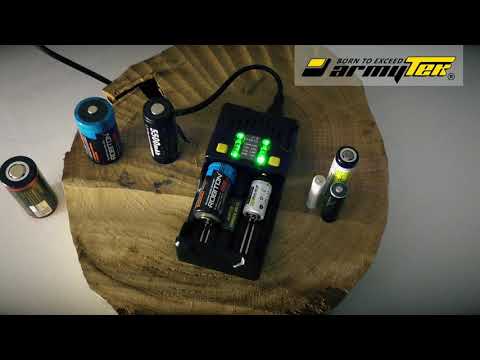 What batteries you can charge in Armytek Uni C2?
Battery Charger Uni C2 of Canadian manufacturer Armytek supports IMR, Li-Ion 4.2V, Li-Ion 4.35V, Ni-MH, Ni-Cd and Li-FePO4 with diameter 10..32mm and lengths 30..70mm, for example : AA, AAA, AAAA, C, D, 10440, 14500, 16340, 18350, 18650, 18700, 26650, 32650.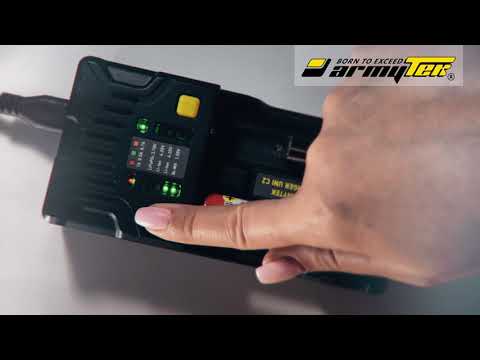 Selection of charge current
You can change the current during 5 seconds of Auto-start phase. Also while charging click the button of proper slot to see the type of battery.
Anyway the blinking of top LED invites you to change the current. Shortly click the button to change the current cyclically:

0.5A - 1A - 0.1A - 0.5A etc.
Leave the button for 3 seconds to finish the selection.
We recommend to use 1A current for batteries with capacity higher than 2000mAh. But 0.1A current is better for old batteries, also when capacity is less than 300mAh. Otherwise, 0.5A can be used as default current.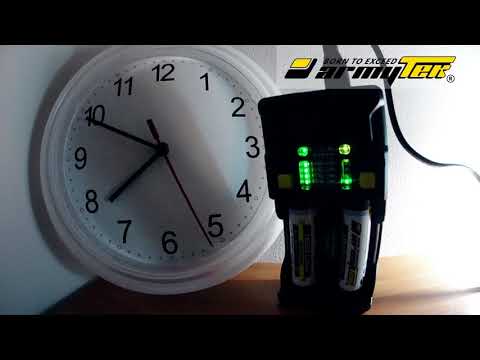 Two discharged 3200mAh batteries are charging with 1A and 0.1A current
The battery charger lets to choose necessary current for each slot. Armytek Uni C2 uses a safe current of 0.1A to activate a "sleeping" battery. Maximum current 1A allows you to quickly charge the battery. LED indication of current level and battery level is always visible for each channel (without touching the button). The charging process stops automatically depending on the battery.