Armytek Crystal Green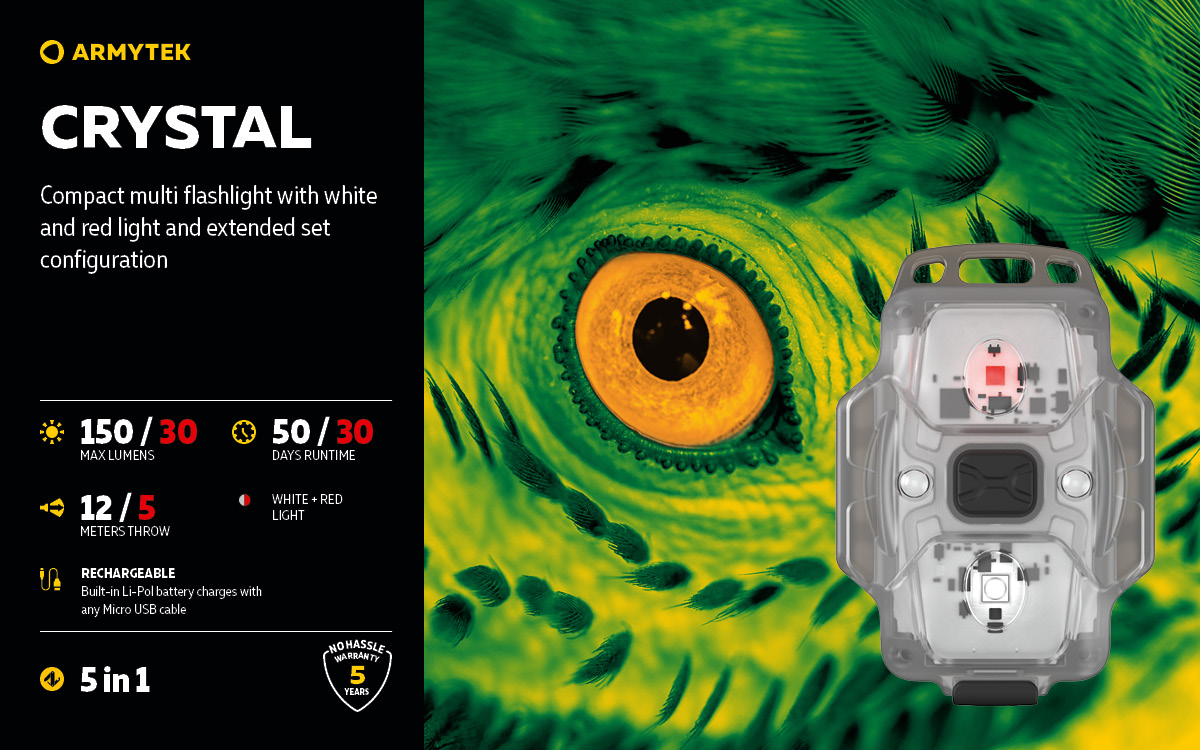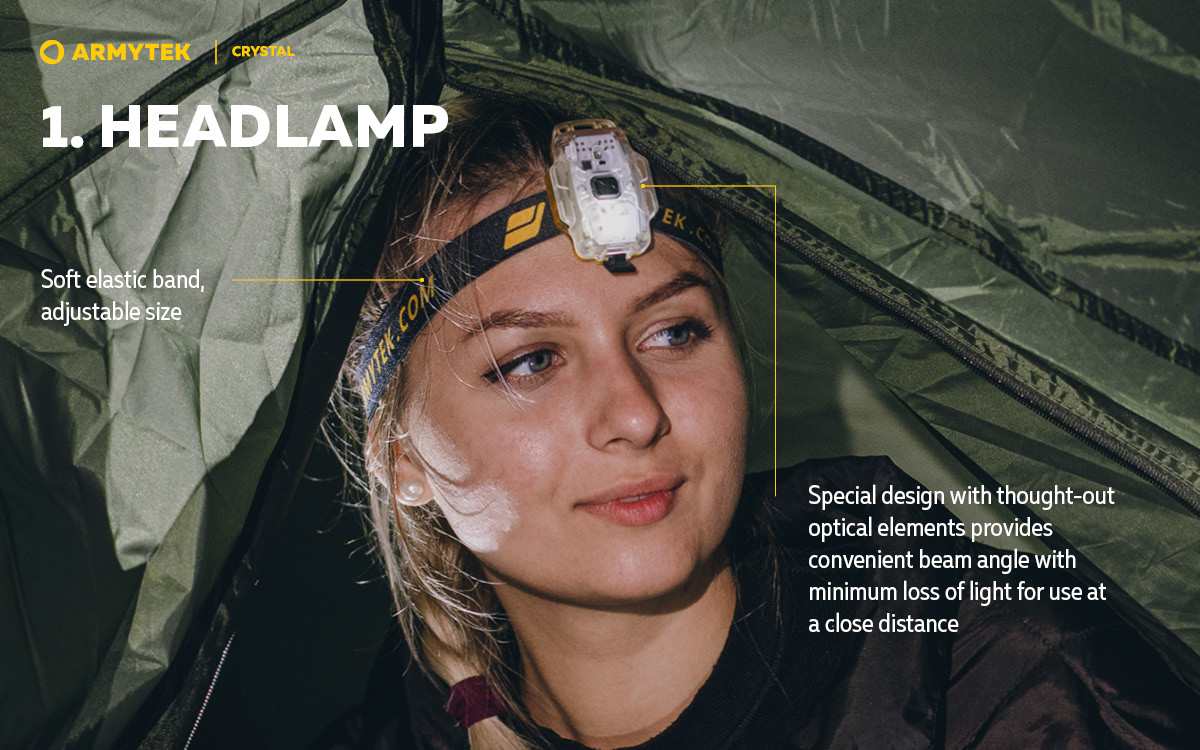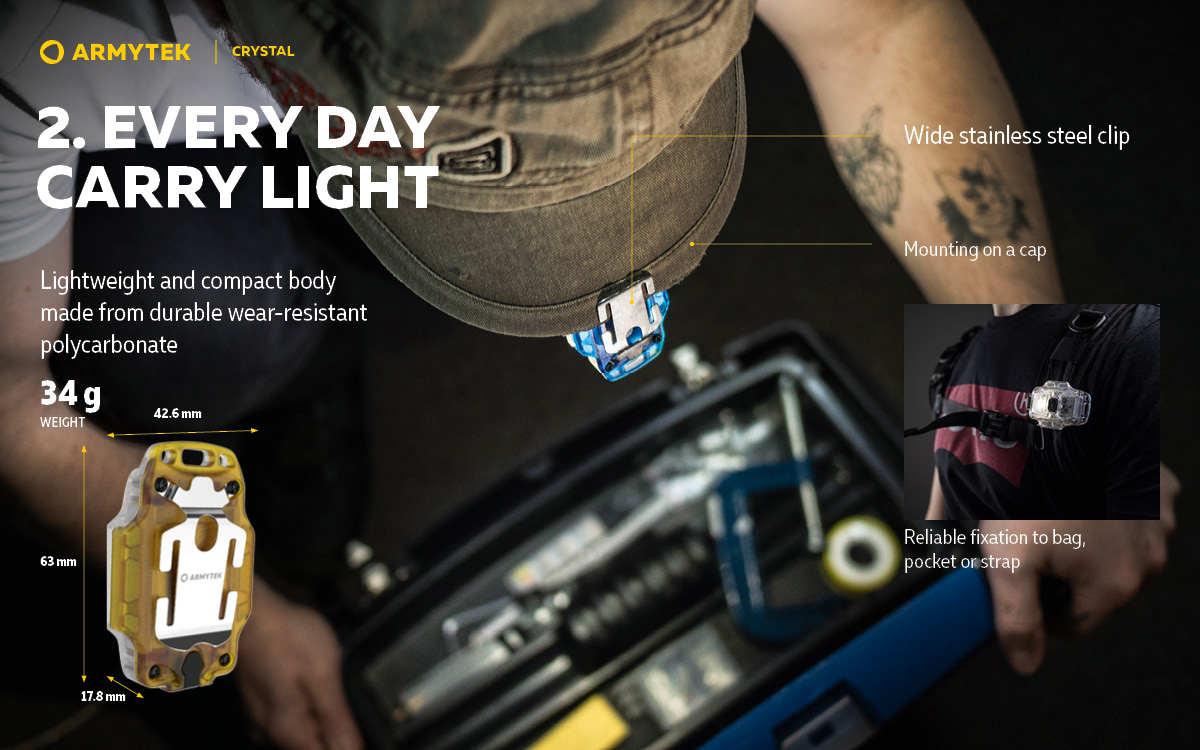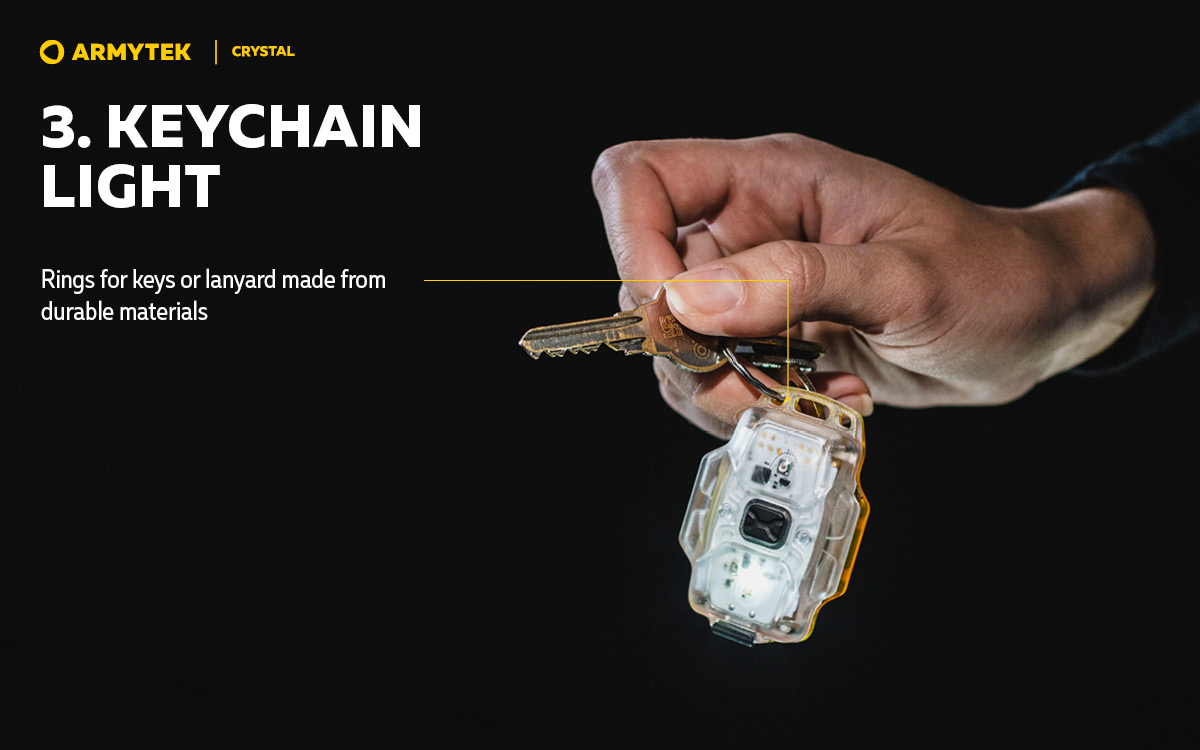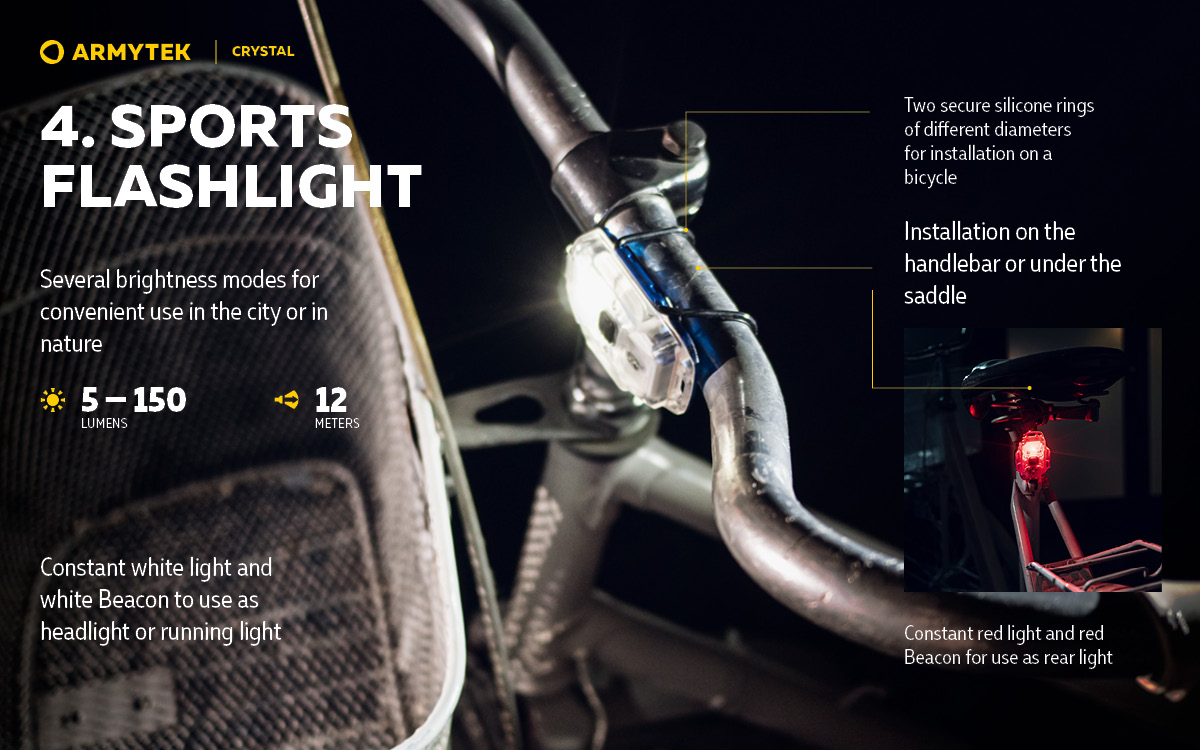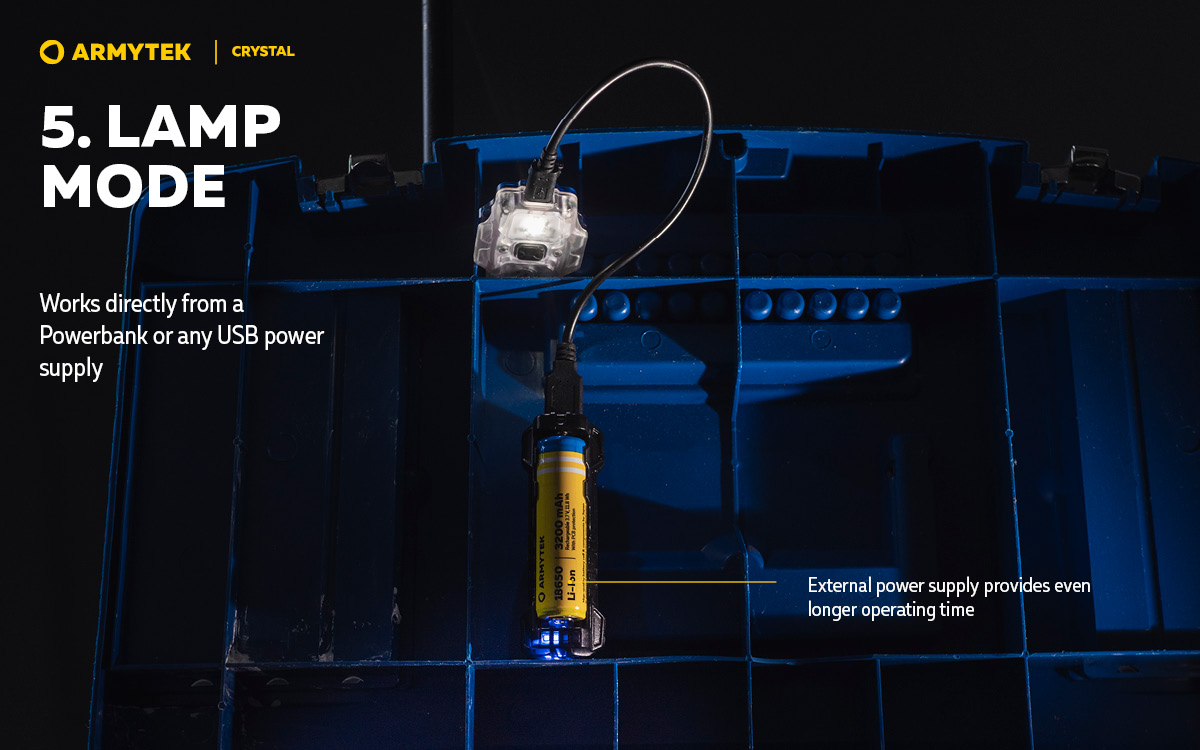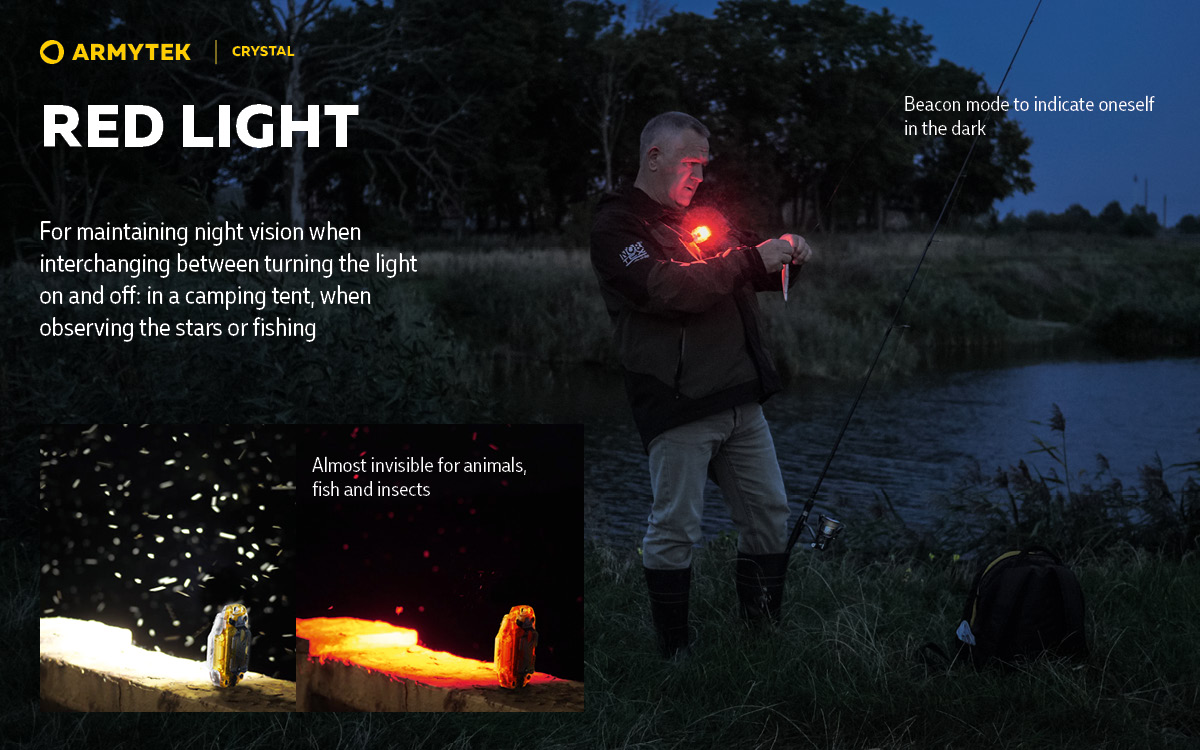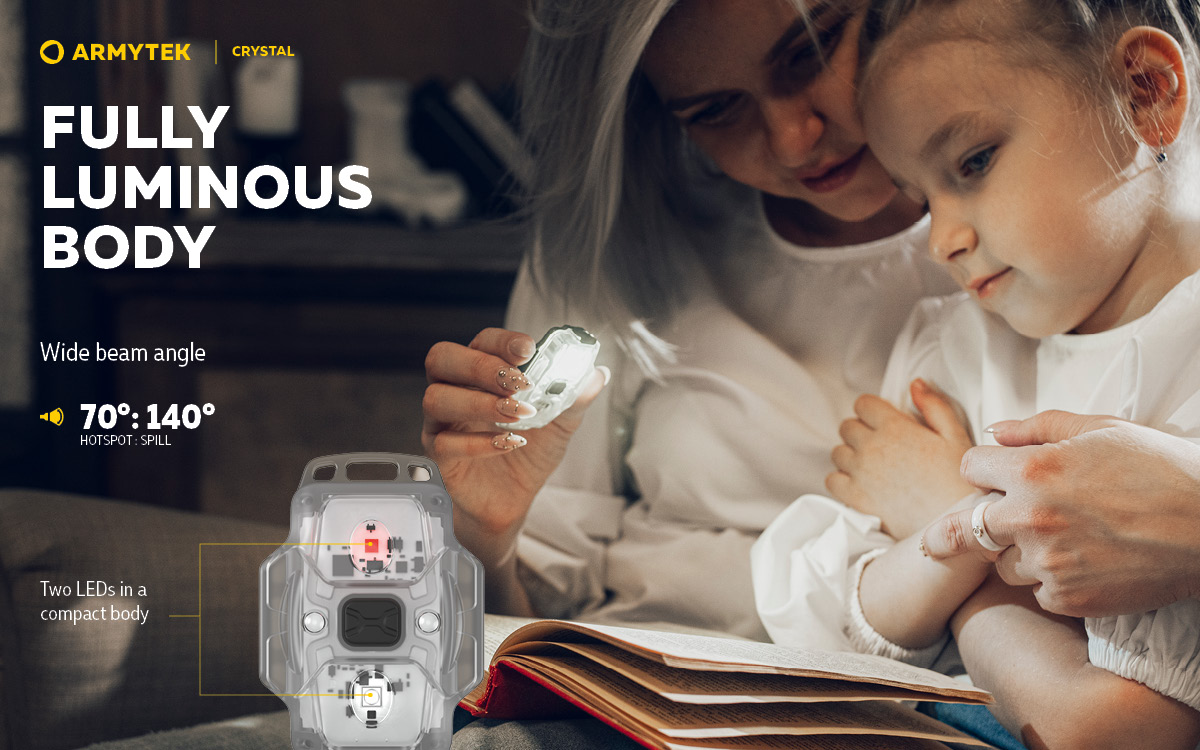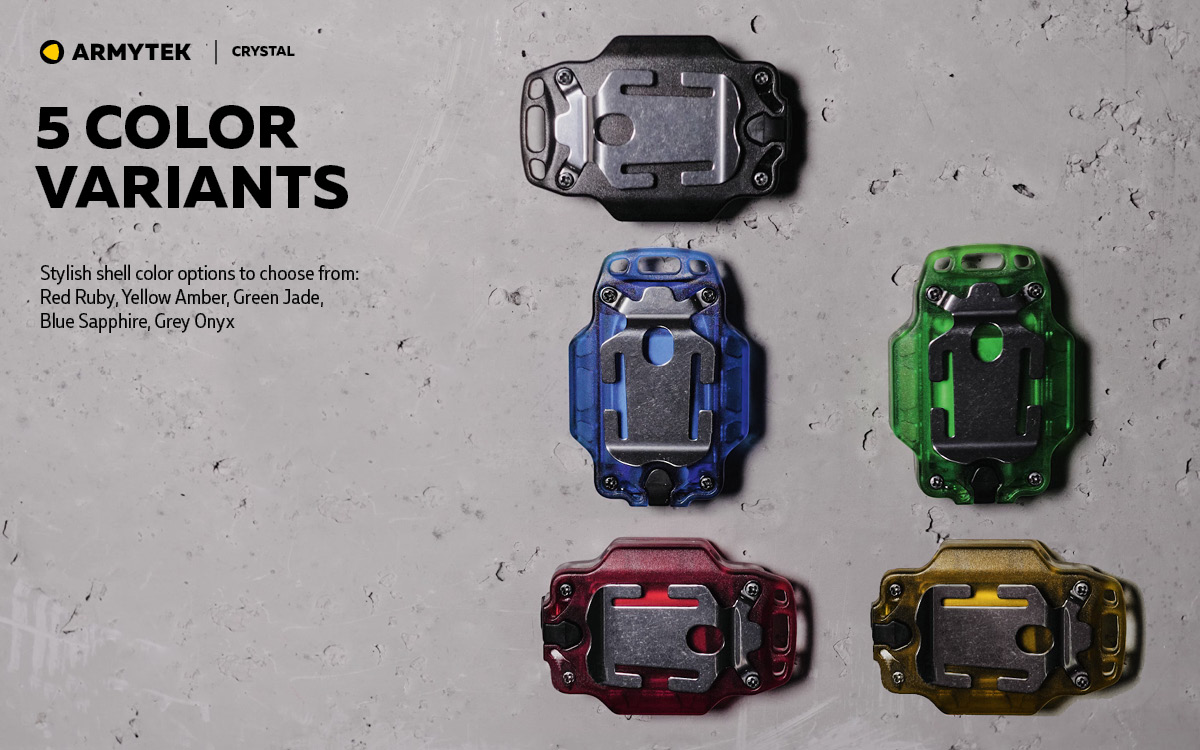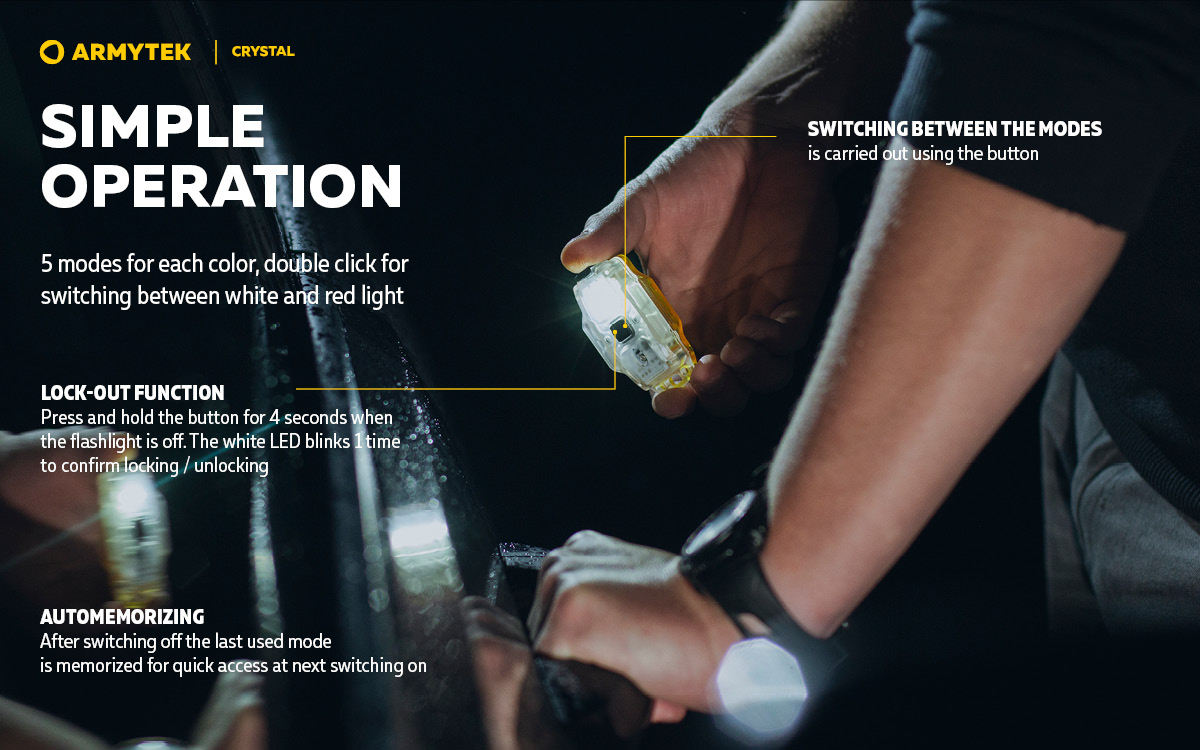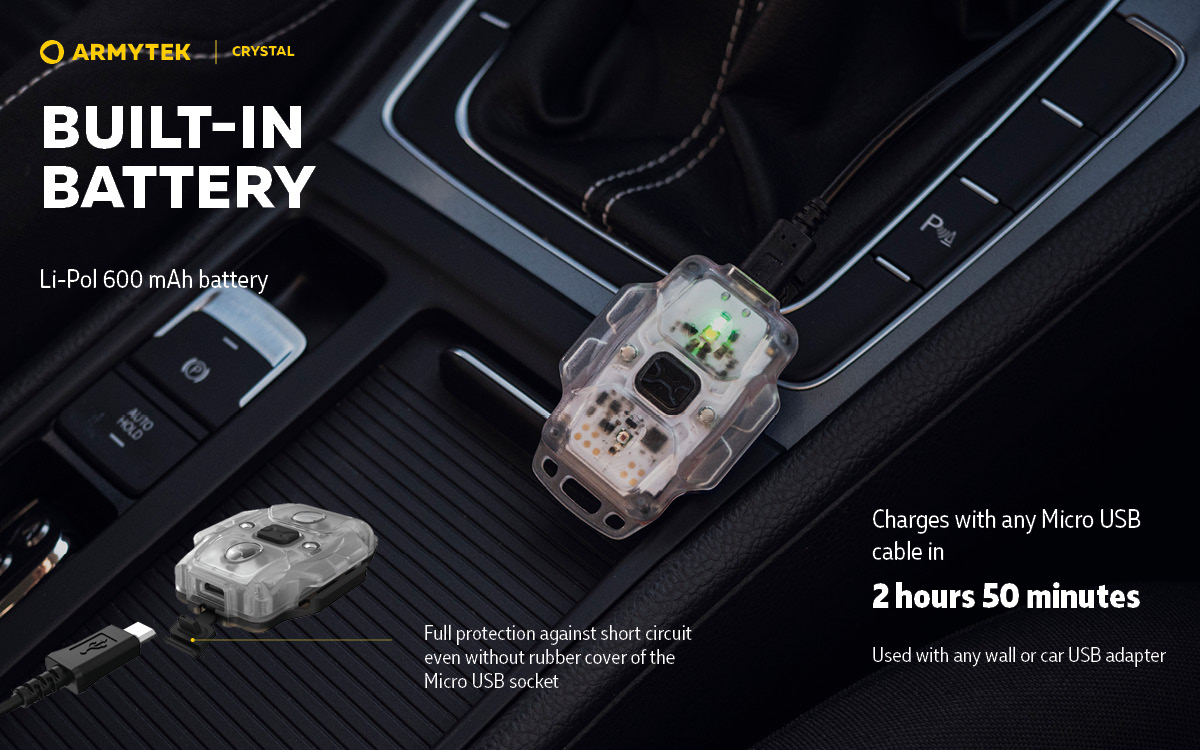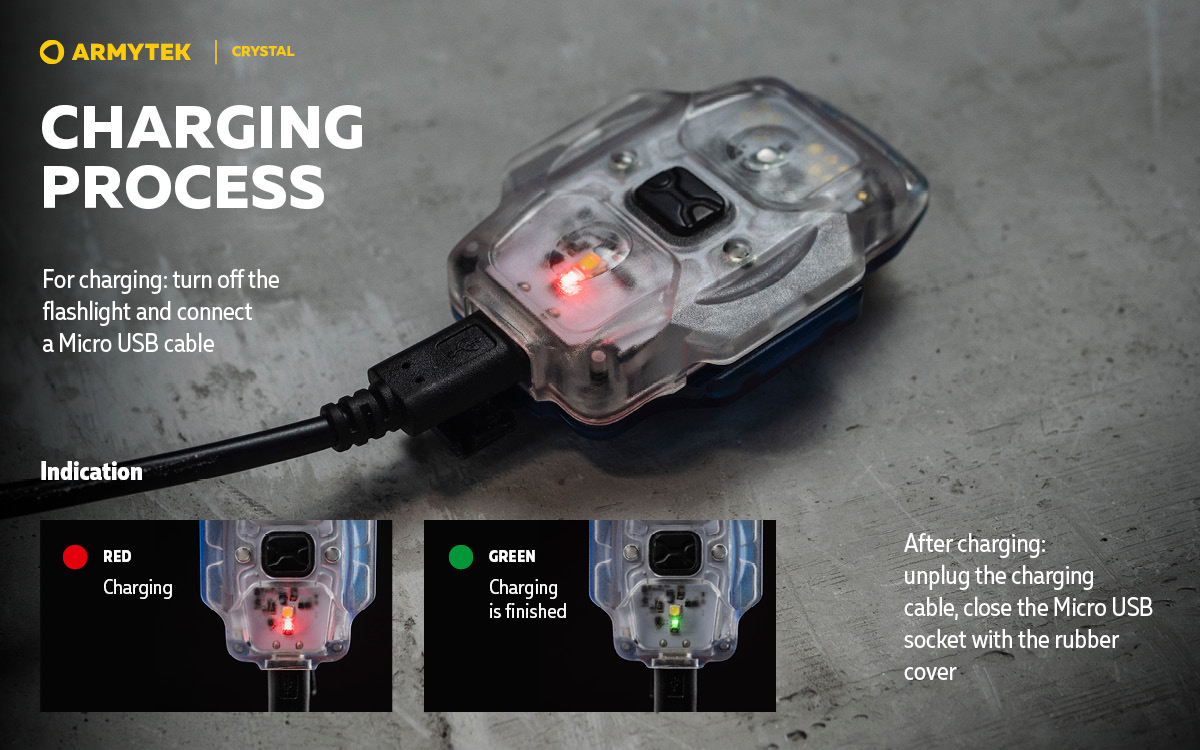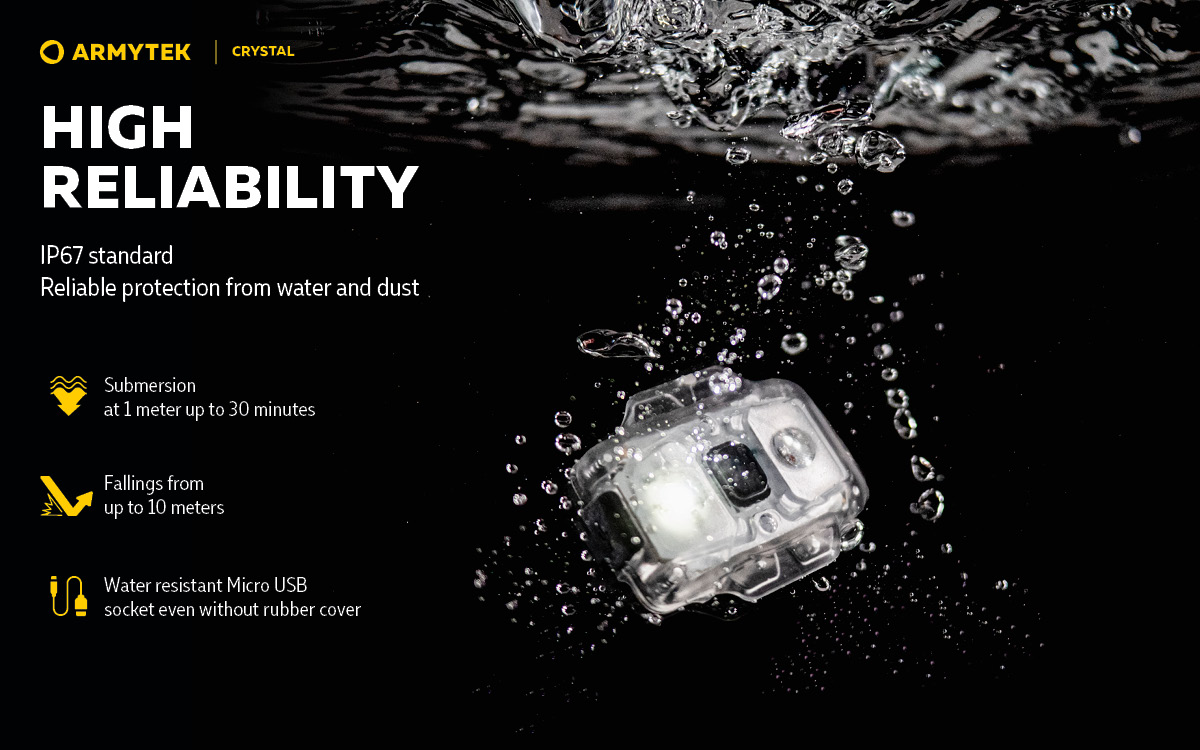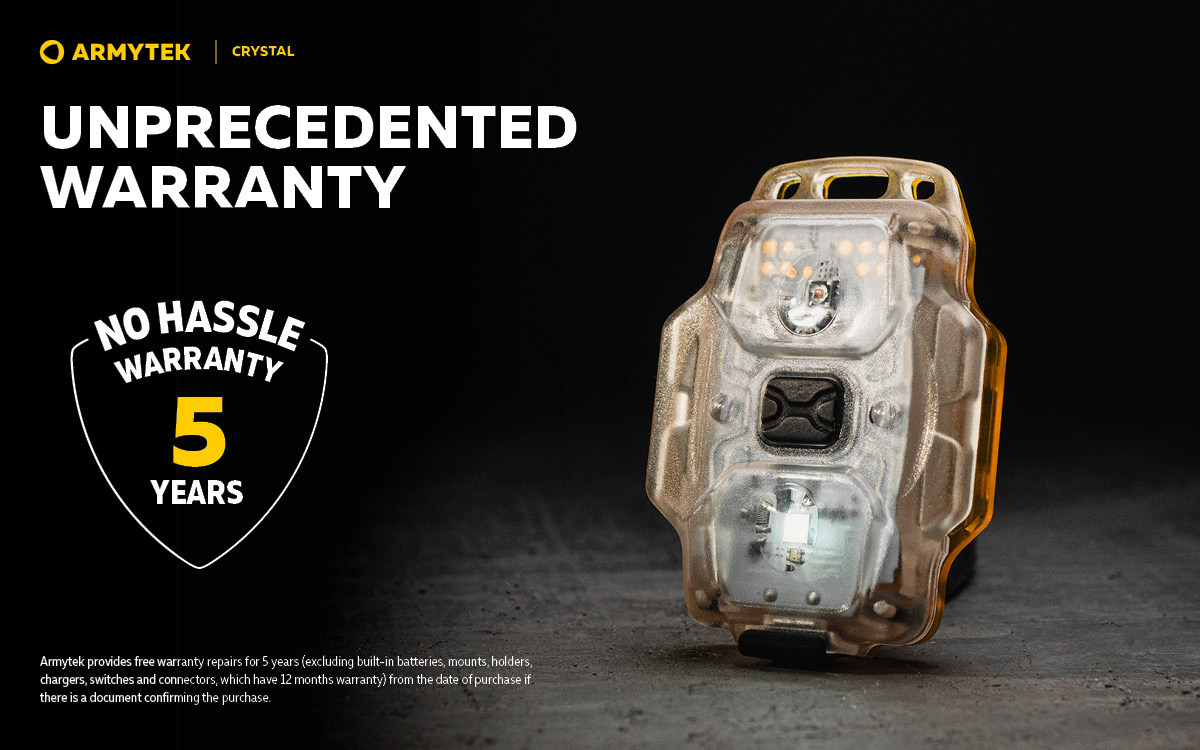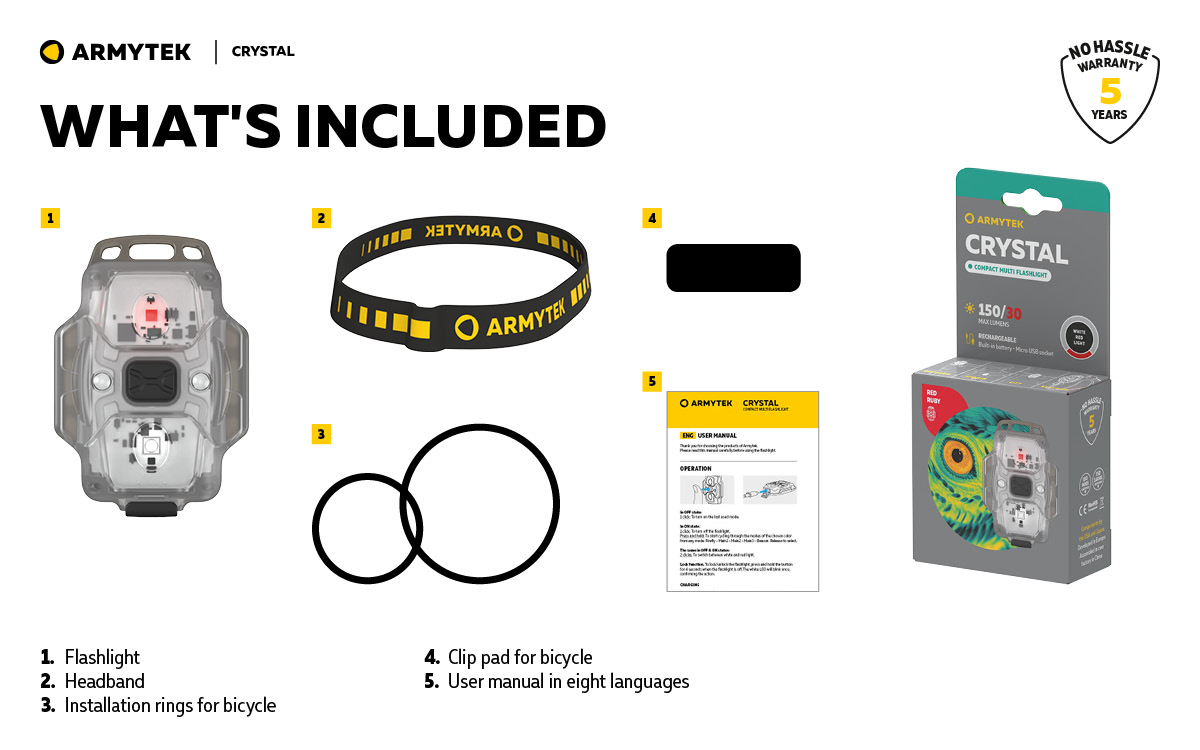 COMPACT MULTI FLASHLIGHT WITH ADDITIONAL RED LIGHT
Crystal is a multifunctional model with bright red light up to 30 lumens and white light up to 150 lumens that easily fits in a pocket. Thanks to its fully luminous body and 140° wide spill, the flashlight is indispensable for close range everyday use: for jogging, cycling or garage works.
Red light of the Crystal model is suitable for performing works in the dark and for maintaining night vision when turning the flashlight on and off: in a camping tent, when observing the stars, for fishing or cycling. It also has an additional advantage for outdoor activities — allows to illuminate the area without attracting annoying insects.
The flashlight works for up to 50 days in the minimum brightness mode. There is no need to additionally purchase and constantly change the batteries: the built-in Li-Pol battery is charged using any Micro USB cable. The multi flashlight does not take up much space in a backpack or bag, freeing it up for other things. The model is securely fixed on the head with an elastic band, allowing for good lighting during any activity. The flashlight can be attached to any item of clothing, belt or backpack strap for safe hiking at night. With the help of special silicone rings in the set, Crystal is securely installed on a bicycle. In addition to that, body design with a hole for a keyring allows using the multi flashlight as a stylish accessory.
CRYSTAL — MULTI FLASHLIGHT 5 IN 1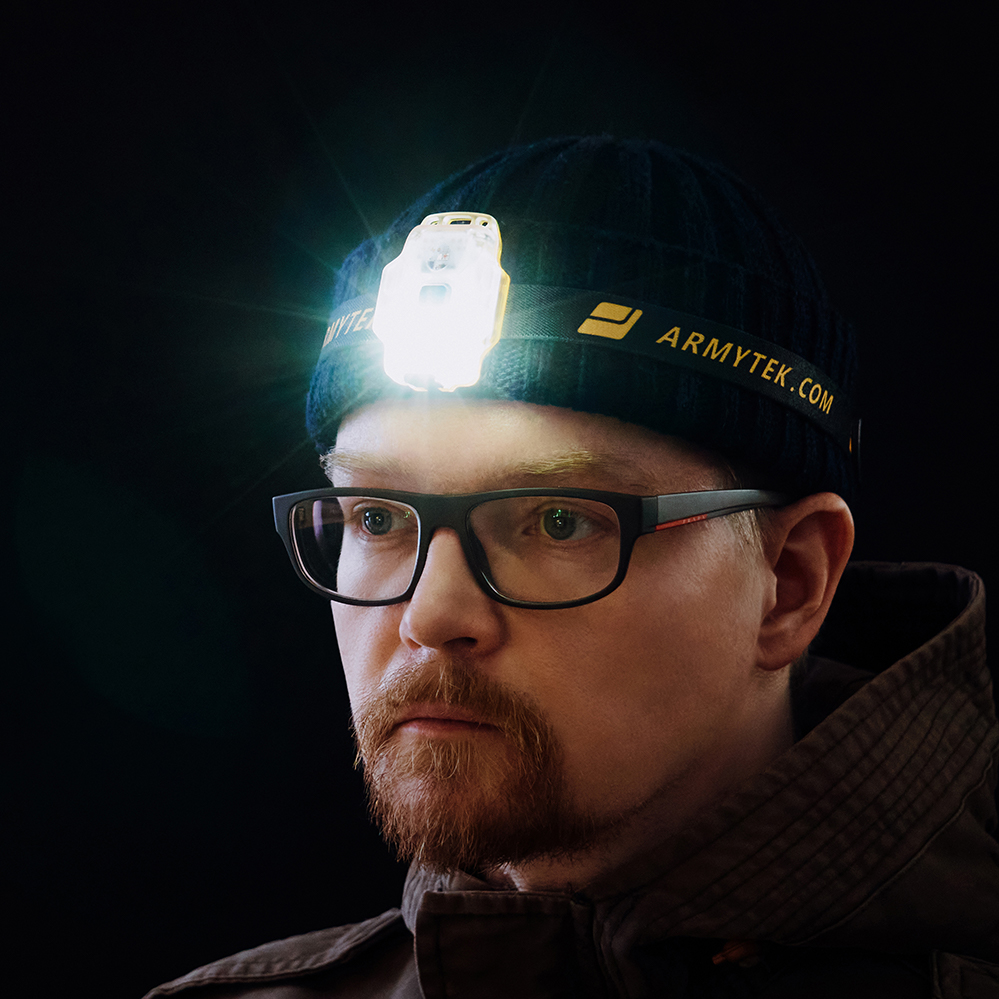 Headlamp
Soft elastic headband
Specially designed body with thought-out optical elements provides comfortable beam angle with minimum loss of light for use at a close distance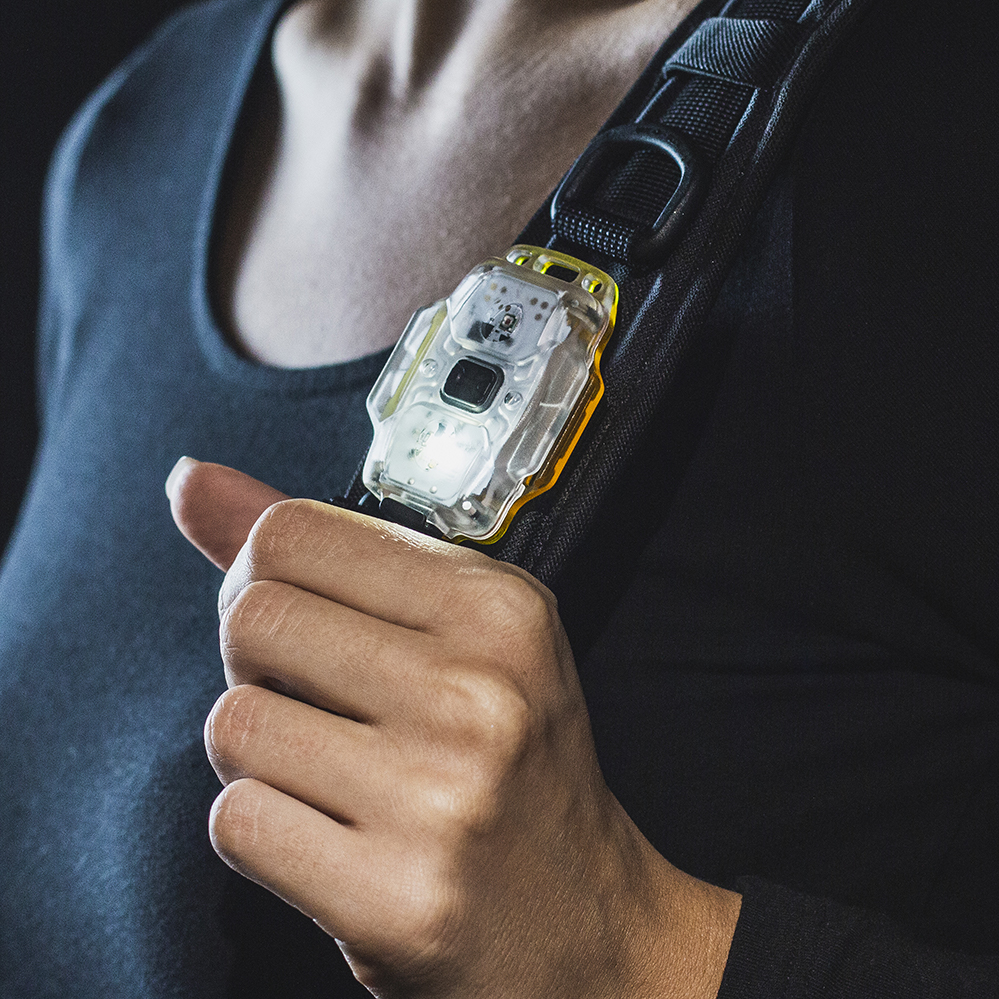 Every Day Carry light
Lightweight and compact body made from durable plastics
Possibility to attach to bag, pocket, strap or cap using a clip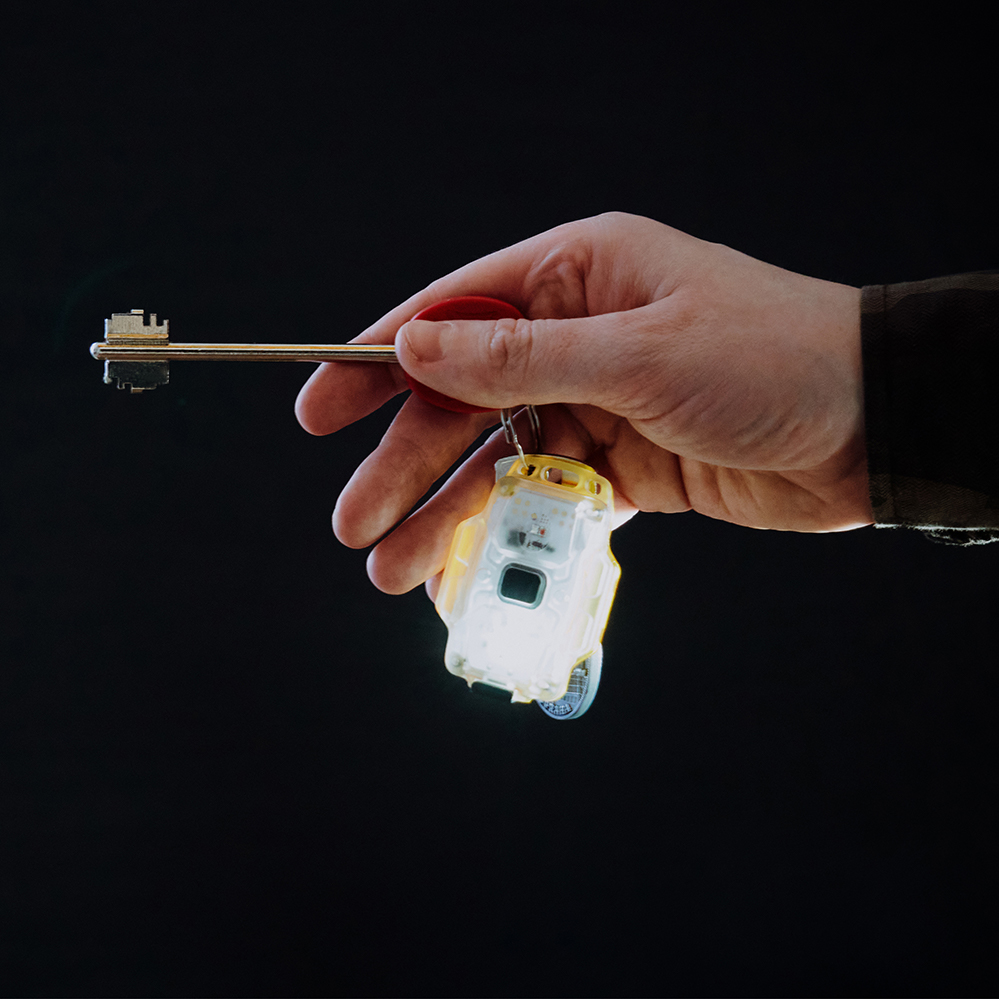 Keychain light
Ring for keys made from durable materials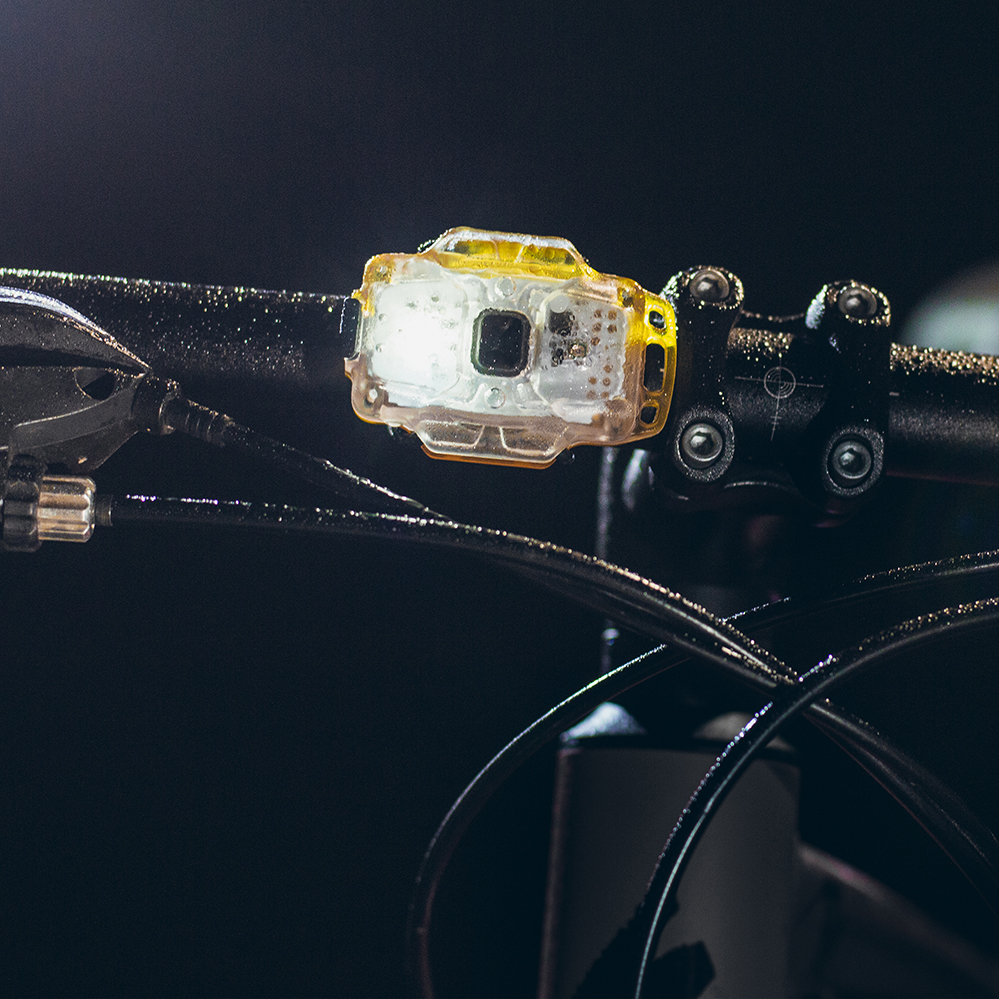 Bicycle light
Secure silicone rings for installation on a bicycle
Constant white light and white Beacon to use as headlight or running light. Constant red light and red Beacon for rear light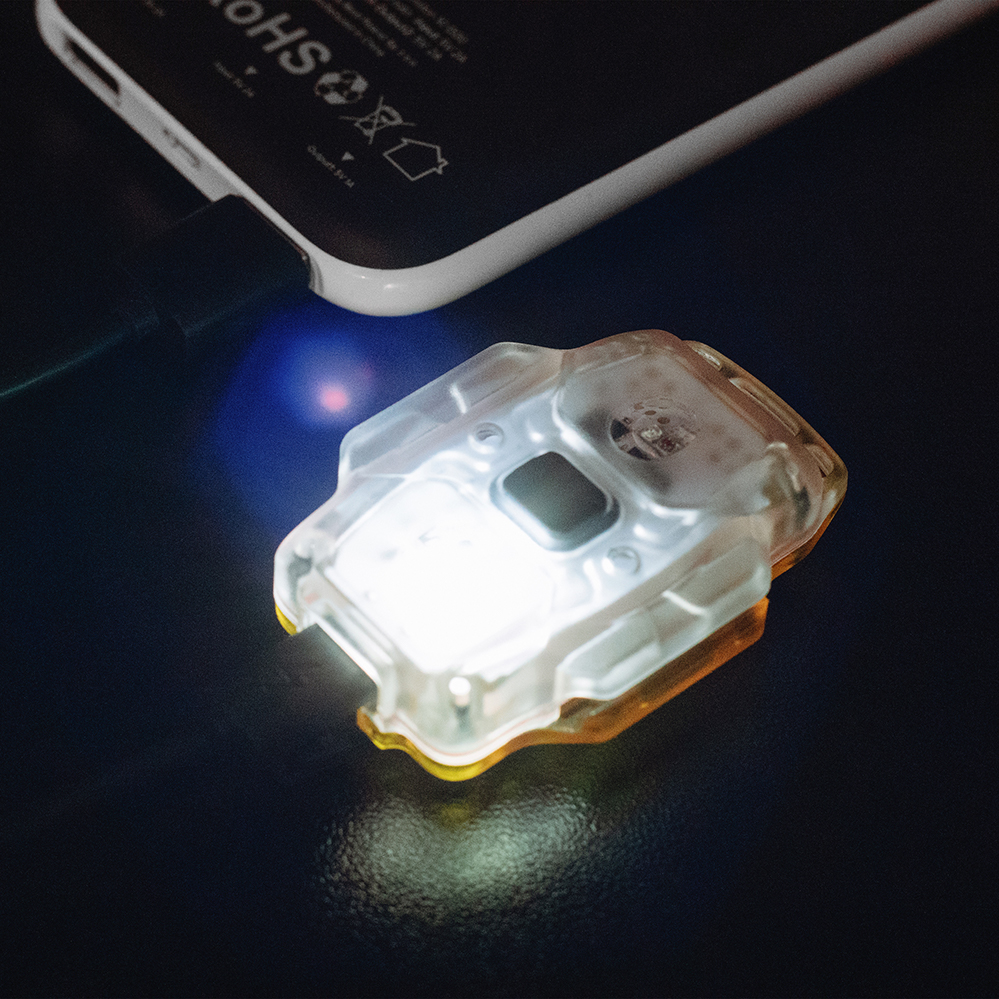 Lamp mode
Works directly from a Powerbank or any USB adapter
Advantages of the multi flashlight with additional red light
Red and white light: 5 brightness modes for each color, easy operation with one button and double click for switching between white and red light.
Red light is almost invisible for animals, fish and insects, comfortable for night vision.
ADVANTAGES OF CRYSTAL
Unique fully luminous body and several shell color options to choose from.
Built-in Li-Pol 600 mAh battery charges with any Micro USB cable.
Color indication of charging process.
IP67 standard: reliable protection from dust and submersion at 1 meter for 30 minutes. Withstands fallings from up to 10 meters.
Robust and water resistant Micro USB socket even without rubber cover.
5 years no hassle warranty.
Light & Optics
Light output (red light), lumens:
Beam distance (red light), meters:
Brightness stabilization type

The completely new second-generation driver S-Tek™ enables the flashlight to emit bright and constant light even when the battery is almost discharged.

:
Digital (CPU brightness control)
Hotspot:Spill:
70° : 140°
Modes
Number of modes:
5 white light + 5 red light
Runtime in maximum mode:
2 h 15 min
Runtime in maximum mode (red light):
3 h
Runtime in minimum mode:
50 d
Runtime in minimum mode (red light):
30 d
Dimensions
Weight (with battery):
34 g
Height (without clip):
15 mm
Body
Material

Our flashlights have a strong, difficult to break body made of aircraft-grade aluminum and developed for a minimum weight with sufficient durability. Premium type III hard anodizing 400HV.

:
Plastic
Waterproof and dustproof standard
Water resistance standard: IP68 (the highest). Metric profile thread provides tight parts attachment.
An addiional O-ring increases glass sealing, and well as an extra L-ring of a specific shape.
:
IP67
Electronics
Battery compatibility:
1 х Li-Pol 600
Ability to use batteries with PCB:
Ability to use batteries without PCB:
Protection from accidental switch-on:
Color battery state indication:
Indication of low battery level: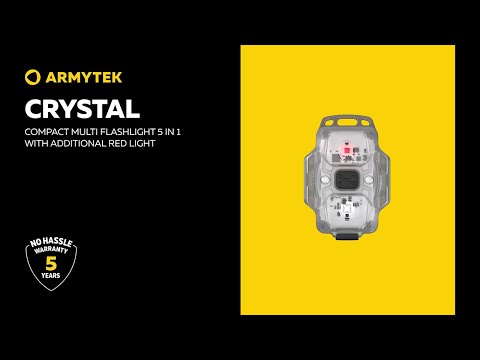 Armytek Crystal — compact multi flashlight 5 in 1 with additional red light
Crystal is a stylish and lightweight compact multi flashlight 5 in 1, equipped with white and red LEDs. The model with impressive for its size red light of 30 lumens at a distance of up to 5 meters is suitable for fishing, cycling or camping. Red light is almost invisible for animals, fish and insects, comfortable for night vision. The set includes a soft headband, steel clip and installation rings for bicycle for use as a headlamp, every day carry or bicycle light.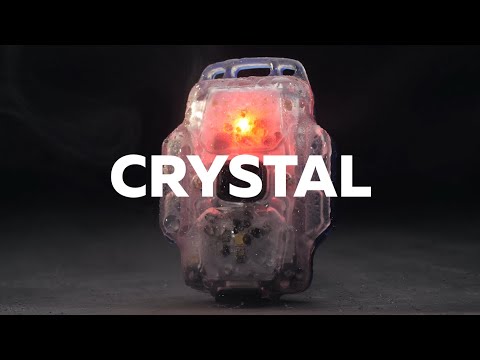 Armytek compact multi flashlights — truly multifunctional
The idea of multifunctionality is deeply rooted in Armytek philosophy: every product is designed to perfectly meet the users' requirements, regardless of the area of application. That is exactly why the high-performance models with several installation options are trusted by a multi-million audience of buyers. From car owners to professional athletes, for more than 12 years people all over the world choose Armytek.