Armytek Zippy WR Extended Set Yellow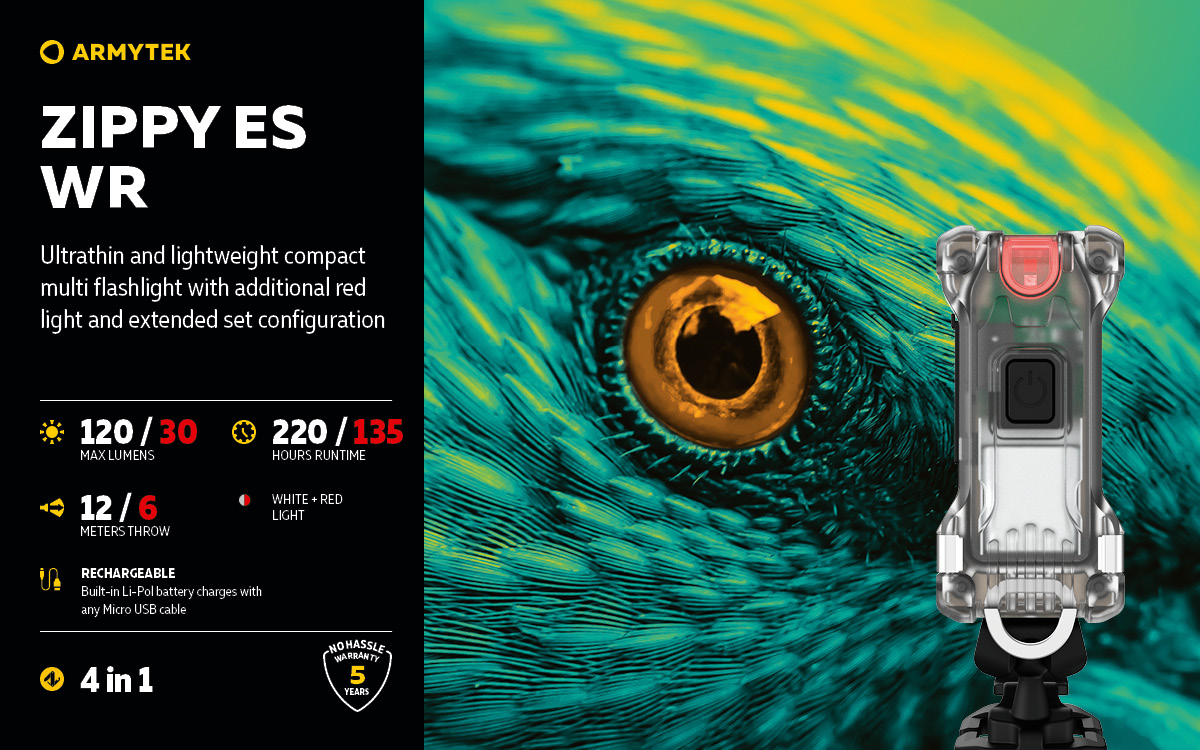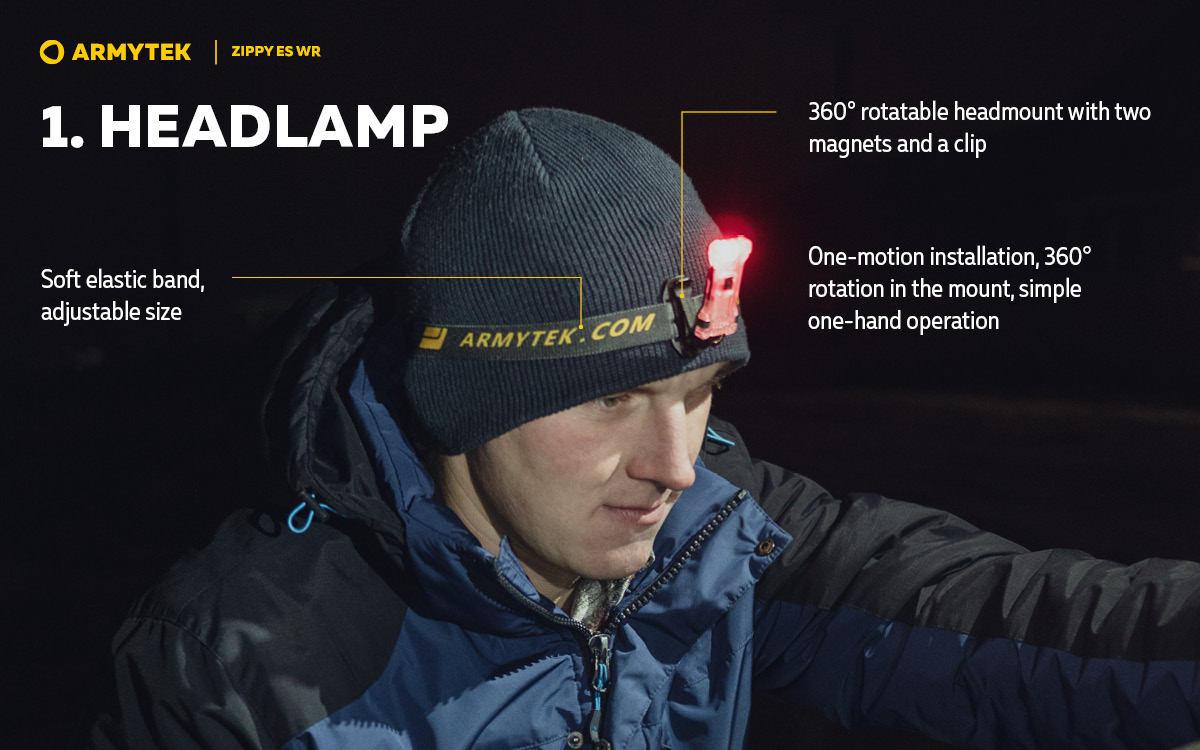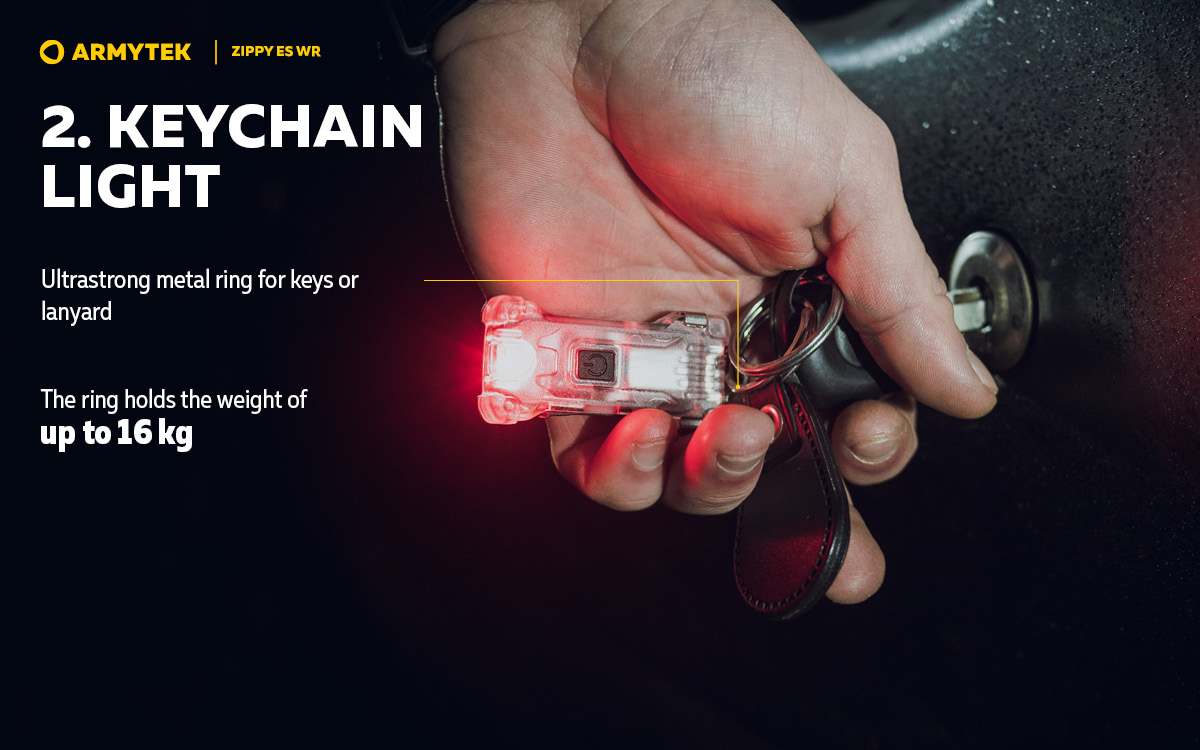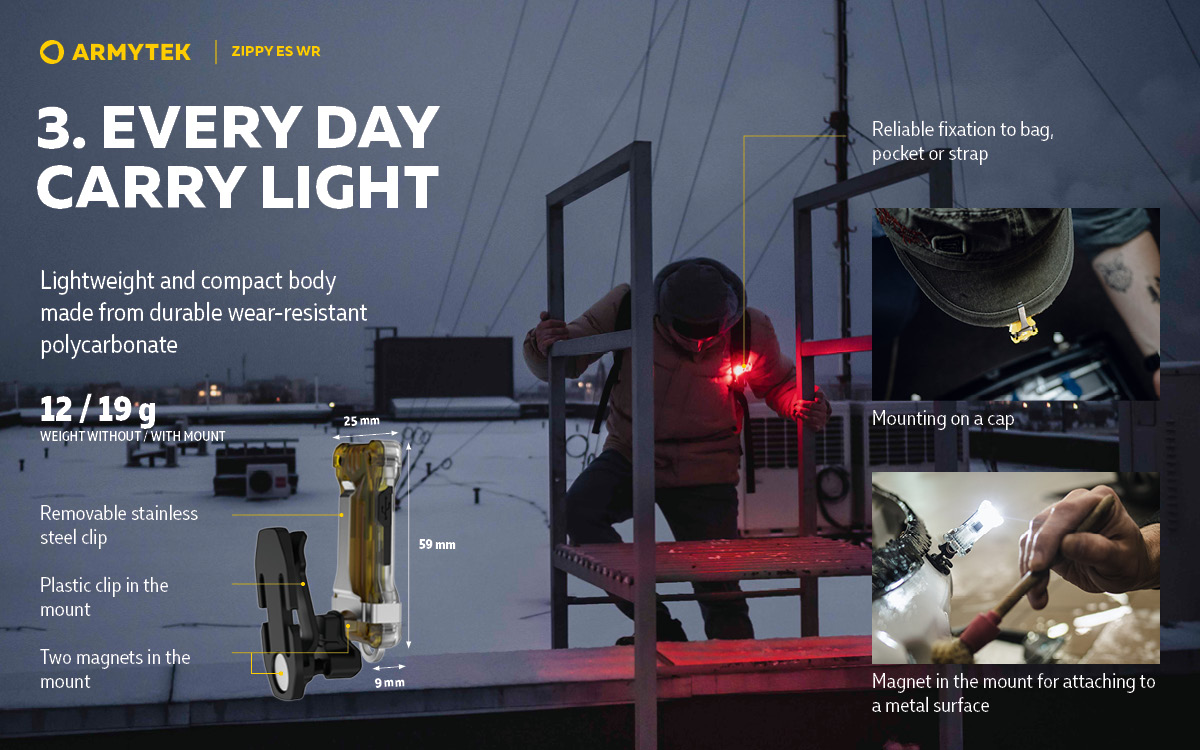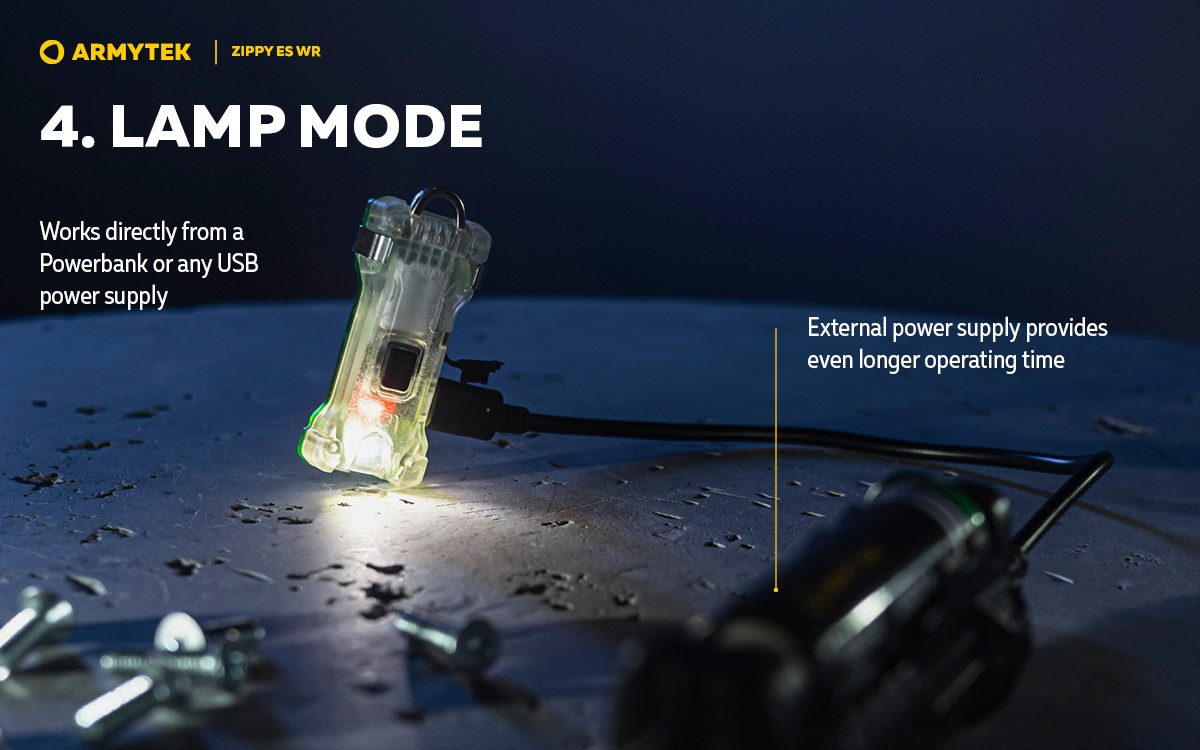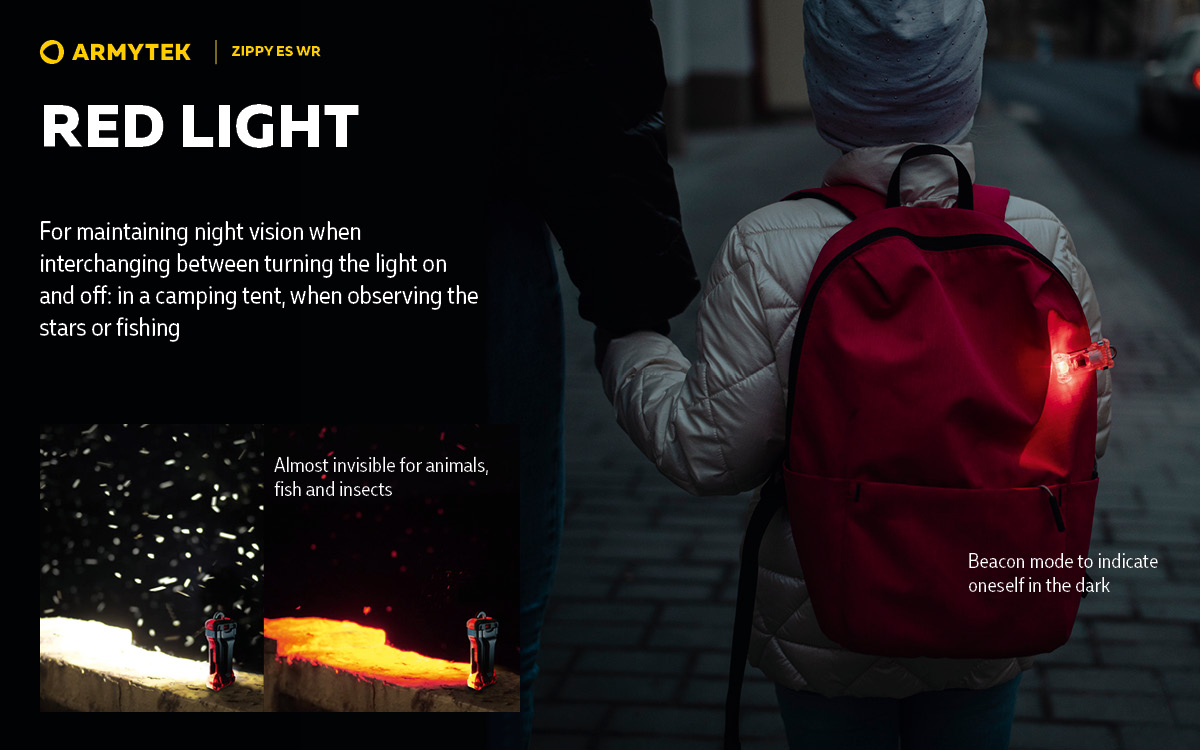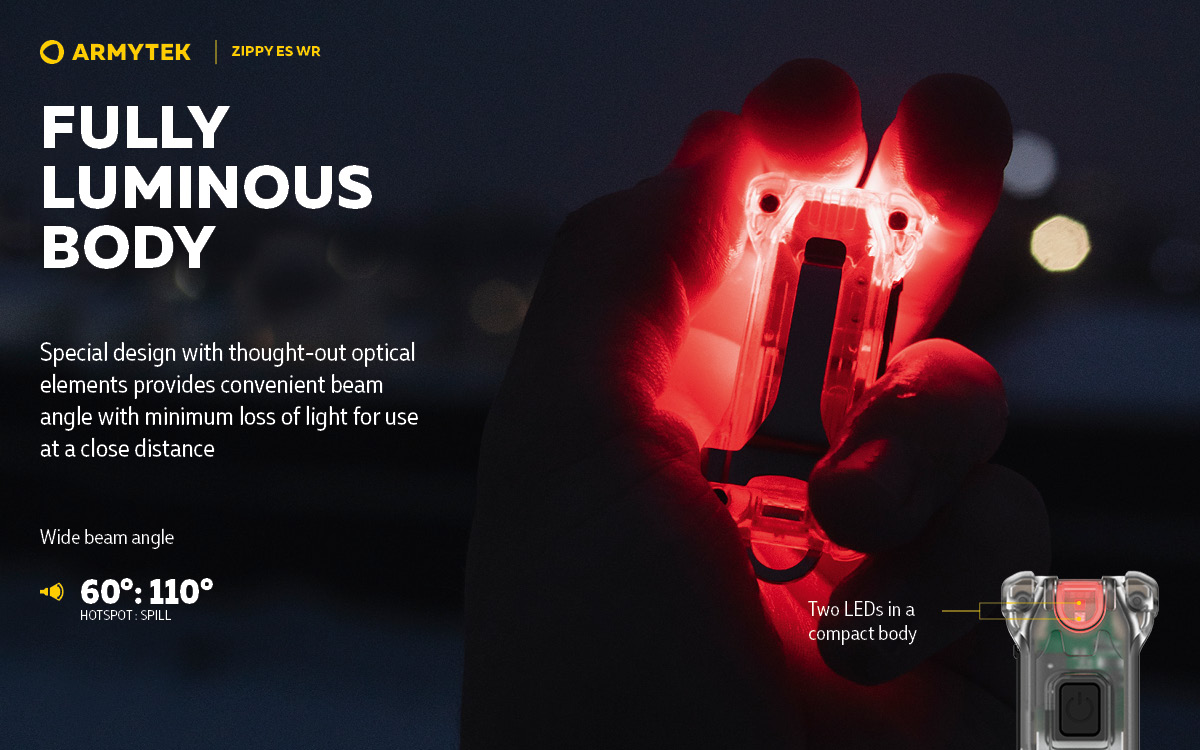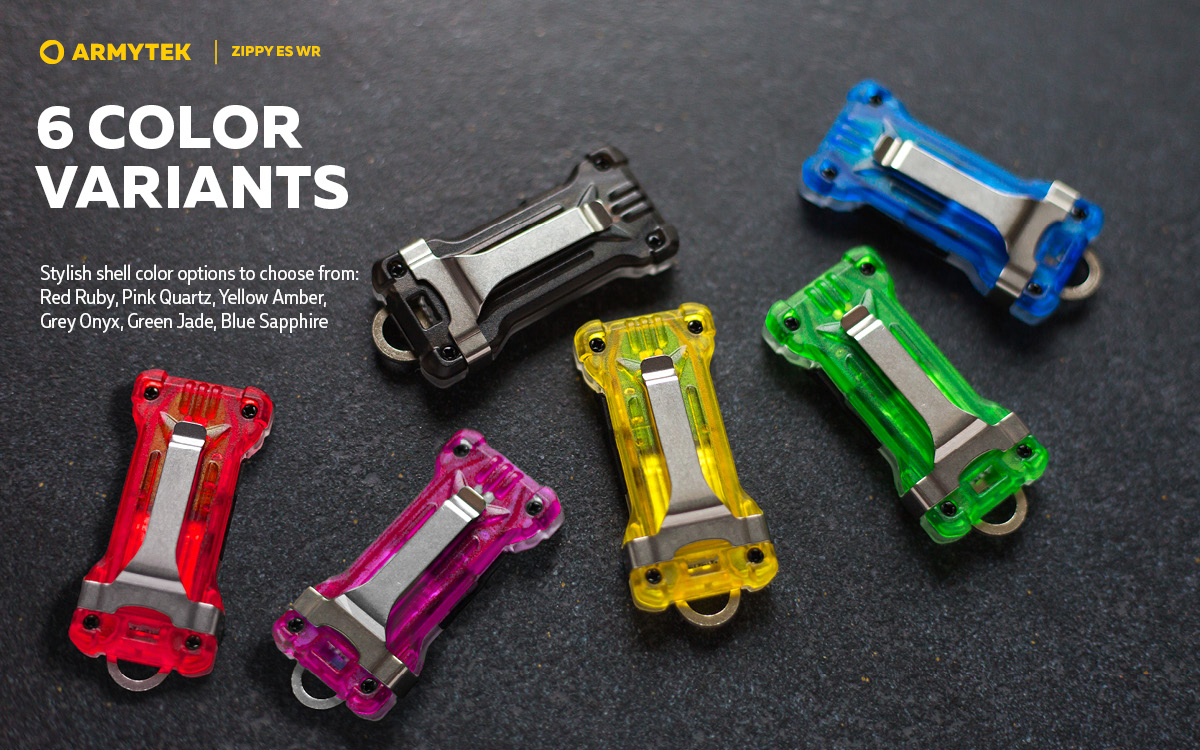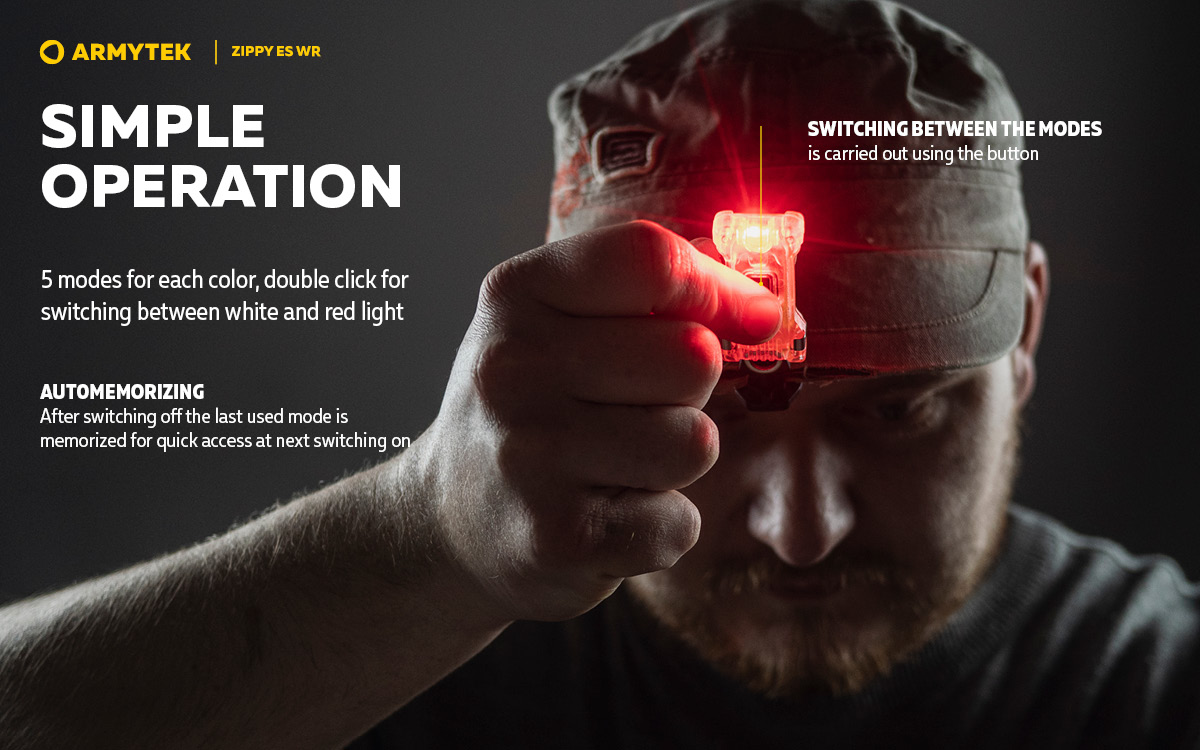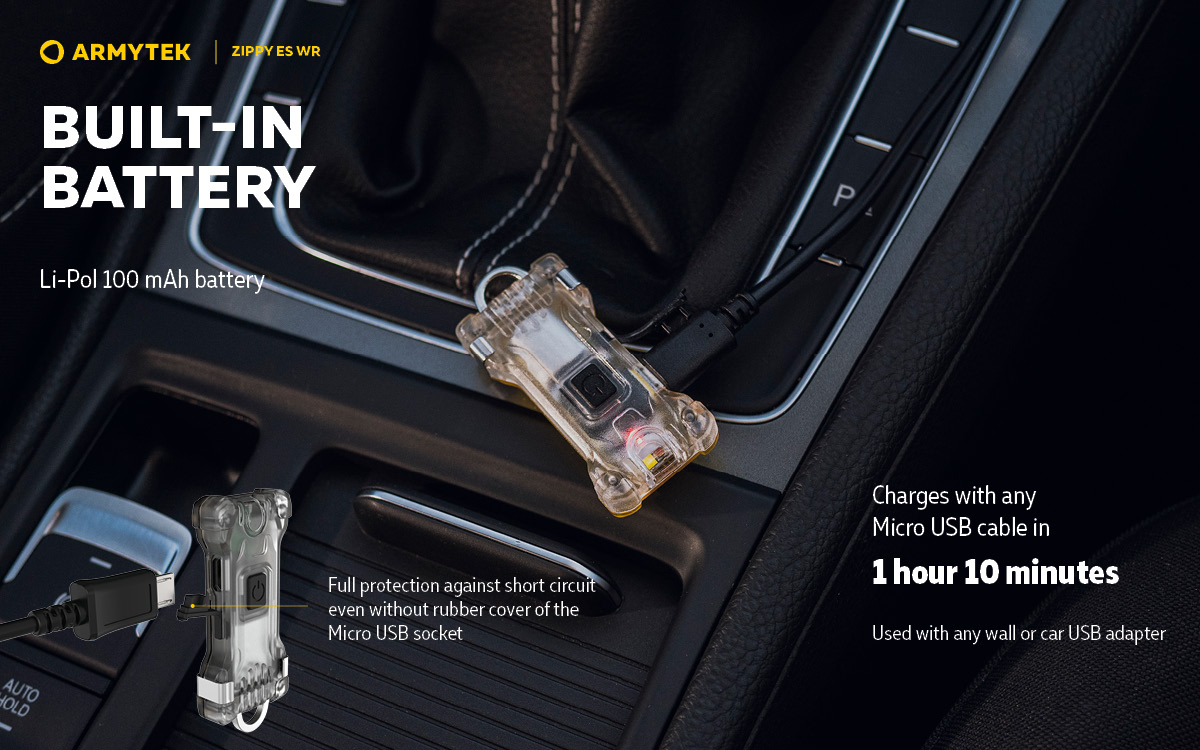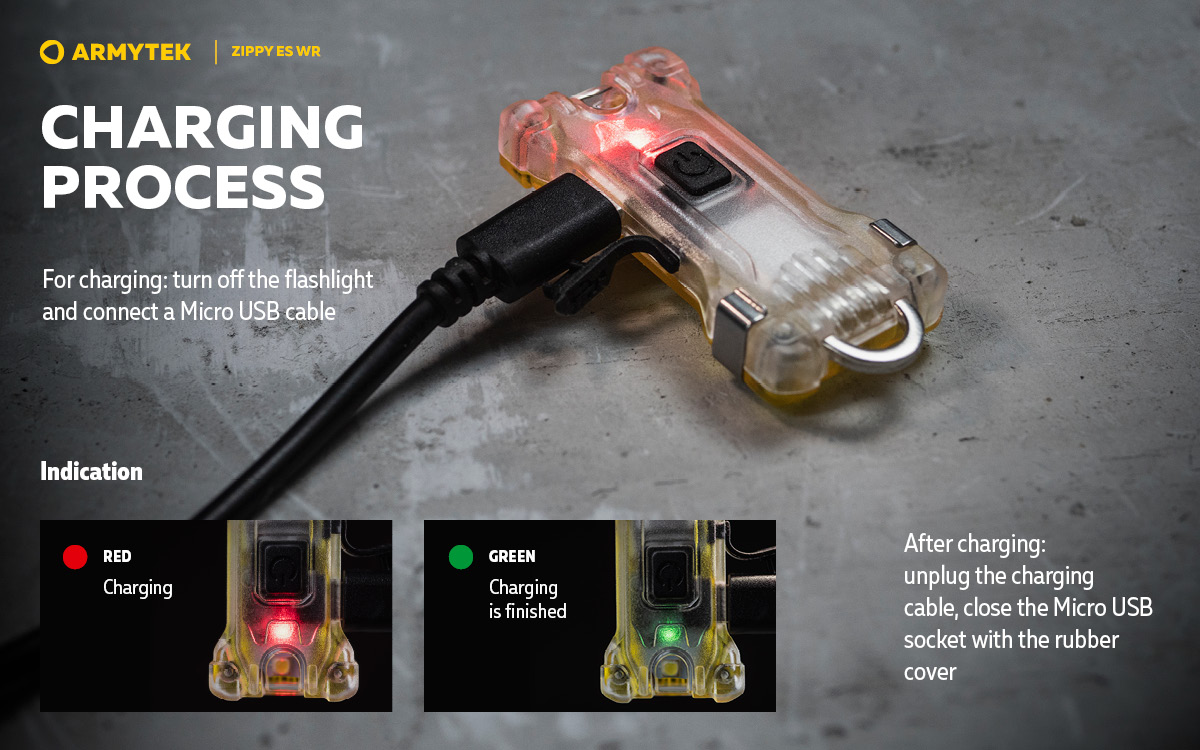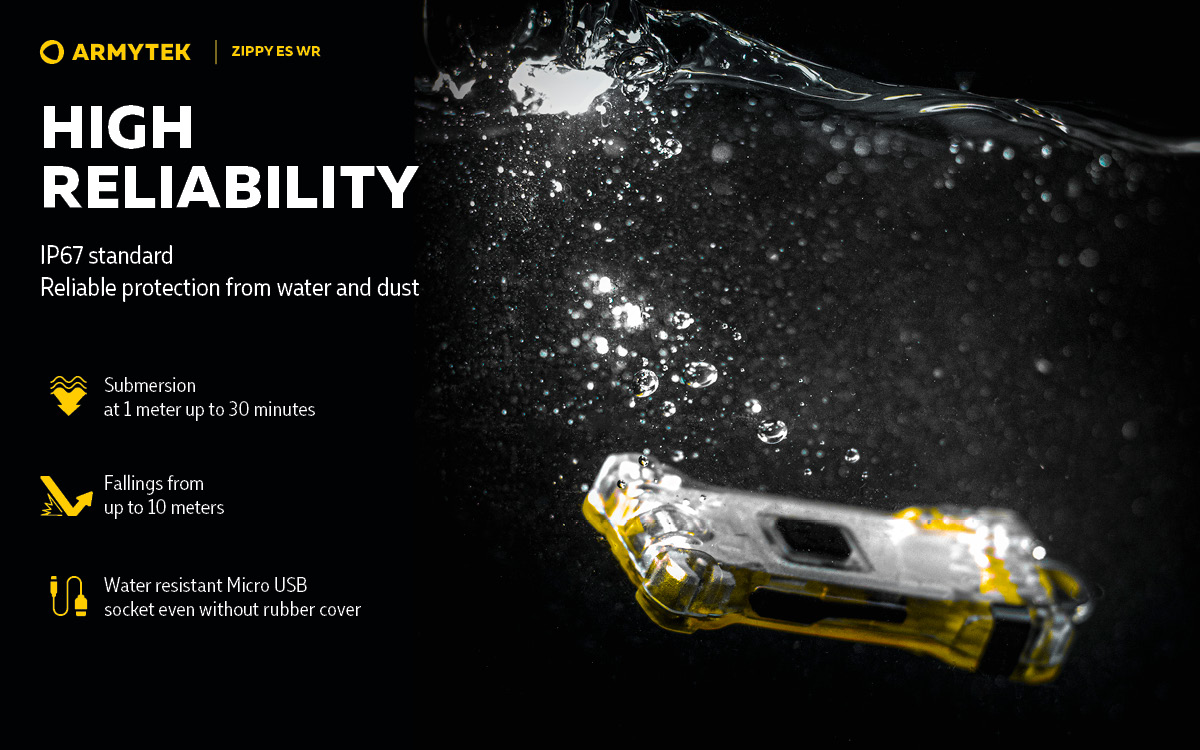 Brighter than you ever imagined
ZIPPY Extended Set WR is the version of the most compact Armytek flashlight equipped with white and red LEDs. Superbright for the given flashlight size red light is 2 times superior to the most powerful keychain analogs.
The set includes innovative 360° rotatable headmount with strong magnet and plastic clip for mounting on a cap. Thanks to this original solution Zippy ES WR is suitable for daily application, car service, repairs, camping and any other day-to day or professional use.
Zippy ES WR — multi flashlight 3 in 1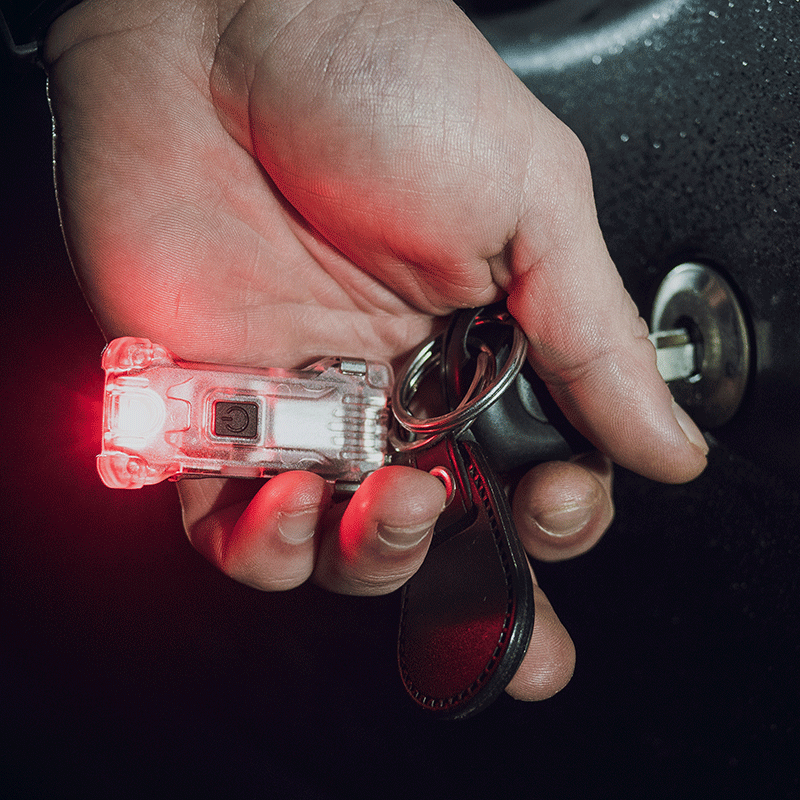 Keychain light
Ultrastrong metal keyring
Multiple stylish color options to choose from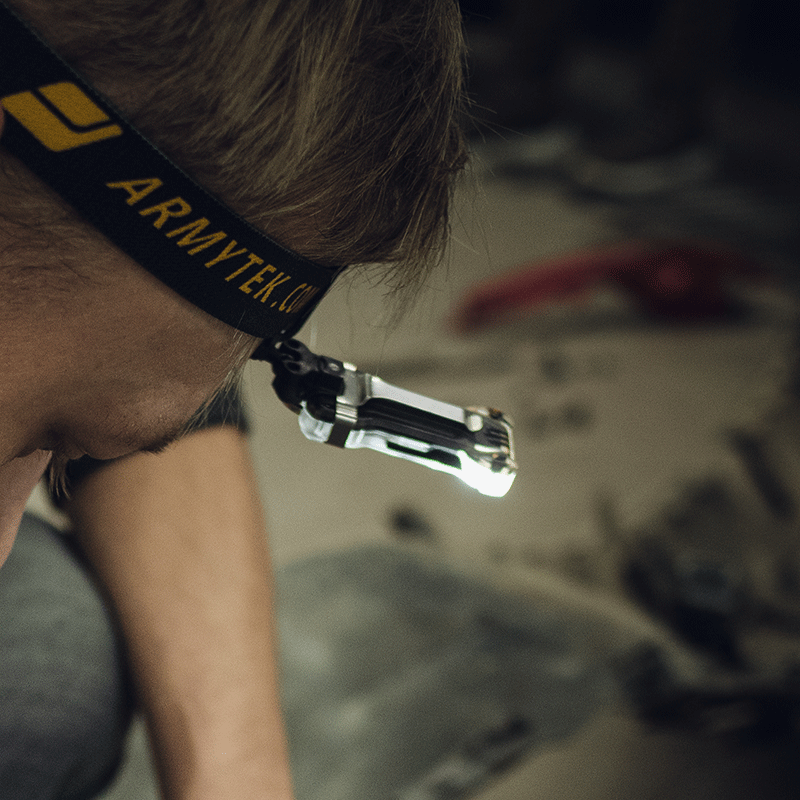 Headlamp
Rotatable 360° headmount with magnet
Plastic clip for mounting on a cap
Every Day Carry light
Removable stainless steel clip to attach to clothes or belt
Headmount with magnet for fixation on metal surfaces
With additional red light
Red light is invisible for some animals, fish and insects, comfortable for night vision.
Indispensable during night fishing, park walks, wildlife observation, photography and up-close tasks.
Red Beacon mode to identify oneself in the dark.
5 color options

All advantages of Zippy ES WR
120 lumens of white light and 30 lumens of red light with wide beam angle of 110°.
5 brightness modes for each color, easy operation with one button and double click for switching between white and red light.
Ultrathin and lightweight body (9 mm and 12 g) with stiffening ribs for protection against mechanical damage.
Indication of charging process.
IP67 standard: highly reliable protection from dust and submersion at 1 meter for 30 minutes.
Unique fully glowing body.
Built-in Li-Pol 100 mAh battery charges with any Micro USB cable.
Convenient operation with one button.
Robust and water resistant Micro USB socket even without rubber cover.
5 years no hassle warranty.
Light & Optics
Light output (red light), lumens:
Beam distance (red light), meters:
Brightness stabilization type

The completely new second-generation driver S-Tek™ enables the flashlight to emit bright and constant light even when the battery is almost discharged.

:
Full (constant light)
Modes
Number of modes:
5 white light + 5 red light
Runtime in maximum mode:
19 min
Runtime in maximum mode (red light):
34 min
Runtime in minimum mode:
220 h
Runtime in minimum mode (red light):
135 h
Dimensions
Weight (with battery):
12 g
Body
Material

Our flashlights have a strong, difficult to break body made of aircraft-grade aluminum and developed for a minimum weight with sufficient durability. Premium type III hard anodizing 400HV.

:
Plastic
Waterproof and dustproof standard
Water resistance standard: IP68 (the highest). Metric profile thread provides tight parts attachment.
An addiional O-ring increases glass sealing, and well as an extra L-ring of a specific shape.
:
IP67
Electronics
Battery compatibility:
Built-in Li-Pol 100 mAh
Ability to use batteries with PCB:
Ability to use batteries without PCB:
Protection from accidental switch-on:
Color battery state indication:
Indication of low battery level: